Spring has arrived! Here are our recommendations for you and your family members and friends to enjoy as the weather gets warmer and we're getting ready for summer.

Good Eggs by Rebecca Hardiman. I haven't had this much fun reading a book in some time. Kevin's life is a hot mess. Between his shoplifting 83-year-old mom, a sulky teenage daughter, and his stalled career, Kevin can't catch a break. Until he hires a caretaker for his mom. Then the fun begins. I laughed and cringed, and laughed some more. A total charmer of a novel. If you're looking for some fun, here it is! —Wendee

The Committed by Viet Thanh Nguyen. This is a literary masterpiece— the long-awaited follow-up to The Sympathizer. First off, don't worry if you haven't read The Sympathizer (I haven't, yet). This book is a great read on its own. The protagonist/narrator arrives as a refugee in Paris and gets involved in its criminal underworld in this gangster thriller that is interlaced with his discourses on colonialism, communism, the American/Vietnam war and their ghosts, and occasional humor. Viet Thanh Nguyen is a fantastic author, and this story is spellbinding. —Krijn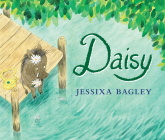 Daisy by Jessixa Bagley. Author and illustrator Jessixa Bagley's Daisy is teased at school, so retreats to her own special place where she collects treasures everyone else overlooks—and then a sweet friend comes along. I love Bagley's art and the message: there's someone for everyone. —Erin

The Death of Murat Idrissi by Tommy Wieringa. This is by far the best book I have read in a long time! At just 100 pages it packs a powerful and poignant punch. Based on a true story of two Dutch women who travel to Morocco, the homeland of their parents. The story will stay with you for a very long time. Originally published in Dutch. —Judy

The Lost Village by Camilla Sten, translated by Alexandra Flemming. This psychological thriller is an absolutely hair-raising page-turner! A group of young filmmakers travels to a village left empty some 50 years ago, in search of answers to the mysterious disappearance of all the villagers following a gruesome murder. Their quest leads them to the brink. Who or what is observing their every movement? —Erin

The Last Taxi Driver by Lee Durkee. In this darkly comic novel, Lou Bishoff chronicles a day of driving an eccentric slew of characters in and around a college town in Mississippi in a beat up taxi. His life is disrupted and changing as his girlfriend is moving out, Uber is moving in, and an antagonistic dispatcher is reappearing. Still showing compassion to long time destitute customers, he has to decide how much he can take. This was a very enjoyable to read. —Krijn

There's No Such Thing as an Easy Job by Kikuko Tsumura. I loved this! The oddball narrator might have been irritating if I didn't find her so relatable—her musings/fixations/insights felt like gentle personal attacks, and they often left me snorting out loud. Read, cringe, and carefully consider whether you're a moderate or radical rice cracker company worker. It's important, probably. —Ellen

Facing the Mountain: A True Story of Japanese American Heroes in World War II by Daniel James Brown. No one puts heart into history quite like Brown. Fans of The Boys in the Boat will appreciate how he again focuses on a few young men to tell a riveting tale of determination. From the shores of Hawai'i to the front lines in Europe as well as in incarceration camps, jails, and courtrooms on the homefront, these Japanese Americans demonstrated heroism and patriotism that inspire. —Tegan

We Begin at the End by Chris Whitaker. Is it a murder mystery, a thriller, a great American classic, a tale of redemption? Yes! to each of these, but most emphatically it's a true love story. Hauntingly powerful. Absolutely un-put-downable. A blow to the heart, and purely uplifting. Don't just think about it. Pick up this book, and then share it with everyone you know. —Wendee

Thirst by Amelie Nothomb. A pithy, thoughtful, and delightfully droll take on the Crucifixion. I especially liked Jesus's recounting of his favorite miracles (and when good wine ought to be served). —Ellen

A Master of Djinn by P. Djèlí Clark. A steampunk murder mystery set in Egypt? Yes, please! This novel has all the trappings of a grand adventure story. There's action. There's romance. And drama galore! But there's also a surprising level of depth thanks to Clark's social commentary. You'll have a blast exploring the back alleys of an alternate Cairo with Agent Fatma. Just beware of fiery ifrits and clockwork angels. —Rachel

Floaters by Martin Espada. Tough, funny, and heartrending, Espada's poems are about growing up, family, and what it means to be seen as "other." He uses a prose- poem structure that's accessible and subtly striking. "Asking Questions of the Moon" is just one of the many in this collection that stays with me. Espada's is a voice of love and of protest. Don't miss this book. —Erin

Canterbury Tales by Geoffrey Chaucer. "Are we there, yet?" isn't just the persistent comment from the kids in the back seat of the car. It is, if we're being honest, a good question. From ancient times, the motif of life as a journey resonates throughout literature. We are reminded of The Canterbury Tales, where everyone has a story to tell. So, as we plan our own travels (vacations, holidays, or pilgrimages), let us consider how we might become better travelling companions—by truly listening to the stories of others and by risking sharing our own stories! Whether you're in search of a beach read, a travel guide, or a mind trip—QABC

A Swim in a Pond in the Rain by George Saunders. The coveted Syracuse MFA Creative Writing program, where Saunders has taught for 25 years, accepts 6 new students a year, less than 1% of applicants. This book offers a portal into the class that has inspired him the most as a teacher: nineteenth-century Russian short story in translation. Saunders takes his favorite 7 stories by 4 different Russian writers and teaches through guided instruction. It is for both readers and writers alike. I read it with a pen in one hand and a notebook in the other, thoroughly engaged, entertained, and inspired. And I know I will dip into it again, and again. —Janis

Notes from a Young Black Chef by Kwame Onwauchi. This is the story of how an up-and-coming American chef found his passion and his path. Onwauchi had to fight systemic racism, the temptations of dealing drugs, and his own demons to pursue his dream of owning a restaurant. Readers who appreciate great food and strong determination will love it like I did. Bonus: There are recipes at the end of each chapter! Available in paperback now, it would be a great book club choice.

We also have a YA adaptation, so it works for intergenerational discussion. —Tegan

The Widow Queen by Elżbieta Cherezińska. History has preserved the name of an enigmatic queen called Sigrid the Haughty. Cherezińska brings her story to life through a feminist lens, deftly rebranding Sigrid "the bold one." I was swept away by this work of historical fiction, which emphasizes female agency and cunning. The story reads like an epic fantasy and will greatly appeal to fans of Vikings and Game of Thrones. —Rachel

Minor Feelings by Cindy Park Hong. Both frustrating and validating. Cathy Park Hong cuts to the quick of Asian American realities in the US. She is especially sharp when it comes to the space that Asian Americans occupy—or are allowed to occupy—in art, literature, and public discourse. I devoured this book. —Ellen