Stories from Grandma: A Fill-In Journal and Family Keepsake (Hardcover)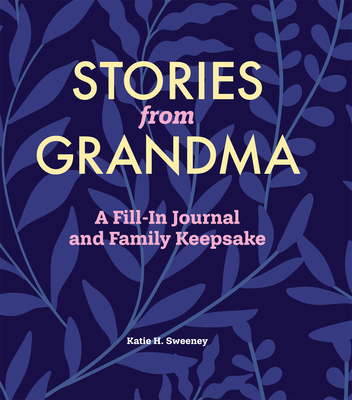 $24.99

Available to order - Usually arrives at our store in 1-5 days
Description
---
Create a cherished family keepsake with this grandmother's journal
Grandmothers have an entire lifetime of unique memories and perspectives that can help younger generations discover where they came from and offer wisdom to guide them.
Stories From Grandma
is full of questions and prompts that help grandmothers organize the story of their life into a beautiful journal that families can share and pass down for generations to come.
The prompts on each page will give your family a glimpse into where grandma came from, what she experienced, and her hopes for the future. It's her opportunity to reflect and open up about her past and things she wished she had learned from her own grandmother. The questions and activities are designed to trigger memories, highlight personal insights, and help grandma connect with the younger members of your family.
A lifelong keepsake—This grandma journal can be saved and shared with children, grandchildren, and beyond.
No rules—Grandma can open the book and pick any prompt, go through them in sequence, or have someone else write while she dictates—it's up to her.
Time for everything—The prompts are grouped by themes and ideas, with sections for grandma's childhood, jobs, favorite things, big events, friends, and more.
Preserve grandma's legacy for your family to treasure forever, with this grandparent journal.
About the Author
---
KATIE H. SWEENEY is a San Francisco-based journalist who has created captivating and original content for some of the Web's leading brands, including Forbes Travel Guide, MyDomaine, and PopSugar. Learn more about her at katiehsweeney.com.
Praise For…
---
"Katie Sweeney's Stories From Grandma is a priceless heirloom that families will treasure forever. I wish my beloved grandmothers had journaled! It would've been incredible to read their thoughts on everything from family history to first kisses to favorite movies. This journal offers space for a grandmother to answer all of that and more. It is truly the gift that keeps on giving!" —Erin Carlson, author of I'll Have What She's Having

"Stories From Grandma is the perfect gift for my mom to share stories of her life with her grandchildren while she's healthy enough to do so. In this busy, digital world we live in, it's important that we take the time to journal our thoughts and experiences to hand down to the next generation. The prompts and questions in this book make doing this easy and fun!" —Amy Carney, author of Parent on Purpose and 100 Questions for Mom Journal