The Holy Grail of Potty Training: A Simple 7 Day System Parents Can Use to Teach Their Child How To Toilet Independently (Paperback)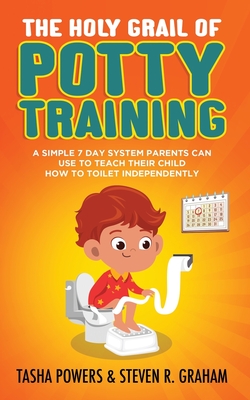 $19.99

Available to order - Usually arrives at our store in 1-5 days
Description
---
Get your kid to
want
to go with this fail-proof, age-adaptable guide that works just as well whether you're a stay-at-home or working parent
It's time. It has been for a while now, but your toddler thinks the toilet seat is as scary as the monster under the bed. And public bathrooms? They're the apocalypse.
How many false starts have you racked up? You're tired of counting. The age-old, "You'll know when they're ready," seems to apply to everybody but your child.
Potty training is an emotional process on its own. No need to add unnecessary anxiety and stress. Make the decision to get the support you deserve, and to see accident-free results within just 1 week.
In The Holy Grail of Potty Training, here is just a fraction of what you will discover:
An ingenious and proven toilet training system to successfully train your child to PEE and POOP inside the toilet without taking more than 1 day off of work
Access to an exclusive, online "Yes You Can" toolbox to guide you step by step
An "It-Really-Is-That-Easy" carryover handout to ensure that other carers don't bring you back to square one
The effortless, non-verbal trick that works like a charm with both typical and atypical developing children
Which of the 5 toddler personality types you need to train to, and why you need to know this before you start training
The 4 tell-tale signs that'll let you know when they've got-to-go
Stick-to-Your-Guns the occupational-therapist approved strategy to gently but firmly talk your toddler through the bumps in the road
What you should never do with your arms if you want your child to love the potty
The key words you should and shouldn't use to get your child saying "Mommy I need to go go now"
What your toddler should and shouldn't wear to make this potty training process successful
Why all you may be missing is a bit of peanut butter
And much more.
No super parenting needed. If you don't have a month to spend on potty training, these tried-and-tested strategies are for you.
With the help of this week-long, day-by-day guide written by an occupational therapist who has literally seen it all, your toddler will not only use the potty, but they will look forward to using it
Stop letting the judgey world of "better-than-you" parenting stress you and your toddler to high heavens.
If you want to potty train your little one quickly, OT-style, then scroll up and click "Add to Cart" right now.