Baukonstruktion - Vom Prinzip Zum Detail: Band 2 Konzeption (Paperback)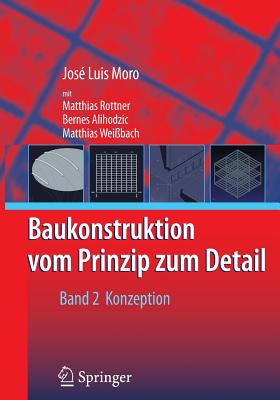 Email or call for price.
Out of Print- Not currently available to order
Description
---
Konstruktion im Dienst der Architektur ist das Thema, dem sich der planende Architekt Jos Luis Moro widmet. Er bietet eine zeitgem e, umfassende und anschauliche Darstellung von Prinzipien der Baukonstruktion und deren baulichen Umsetzung, bei der das Wesentliche mit hohem Grad an Anschaulichkeit in leicht verst ndlich dargestellt wird. ber die Vermittlung stofflichen und bautechnischen Grundlagenwissen hinaus werden Wege vom grundlegenden L sungsprinzip zum technisch ausgearbeiteten baulichen Detail gezeigt. Im Schwerpunkt werden die Darstellung von Zusammenh ngen zwischen Entwurf, Material und Konstruktion behandelt. Zahlreiche hervorragende Schaubilder dienen der Erl uterung der Inhalte zum Zweck der gr tm glichen Verst ndlichkeit.
Das mehrb ndige Werk behandelt die Grundlagen der Planung, die einsetzbaren Werkstoffe und Bauprodukte, die wesentlichen Funktionen der Baukonstruktionen, die geometrischen Gestaltungsm glichkeiten und Details funktionsf higer Baukonstruktionen und deren Zusammenf gung. Zahlreiche Prinzipvarianten werden durch detaillierte Konstruktionsbeispiele erl utert.
Der Band "Konzeption und Umsetzung" behandelt wesentliche Fragen der geometrischen Gestaltung und des Zusammenf gens von Bauteilen zu einer funktionsf higen Baukonstruktion und die daf r zu l senden Detailfragen der Sto - und Fugenausbildung. Auch Varianten von Tragwerken und von verschiedenen etablierten Bauweisen werden dargestellt und hinsichtlich der zugrundeliegenden strukturellen Logik erl utert. Den letzten Abschnitt bilden zahlreiche detailliert dokumentierte Konstruktionsbeispiele zu den gew hlten Prinzipvarianten.