The New York Times Cooking No-Recipe Recipes: [A Cookbook] (Paperback)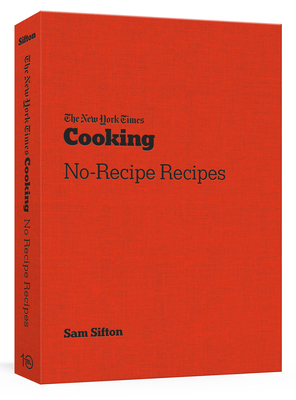 $28.00

Available - On our shelves now
Staff Reviews
---
Sometimes it is fun to experiment with a recipe. This book is brilliant in that way. Want to make Shaved Cucumbers with Peanut Sauce? The book simply provides you with a list of ingredients and off you go! It is a great way to build comfidence in the kitchen!
— From
Judy
Description
---
NATIONAL BESTSELLER • The debut cookbook from the popular New York Times website and mobile app NYT Cooking, featuring 100 vividly photographed no-recipe recipes to make weeknight cooking more inspired and delicious—featuring a convenient flexibound format.
 
ONE OF THE BEST COOKBOOKS OF THE YEAR: Vanity Fair, Time Out, Salon, Publishers Weekly

You don't need a recipe. Really, you don't.
 
Sam Sifton, founding editor of New York Times Cooking, makes improvisational cooking easier than you think. In this handy book of ideas, Sifton delivers more than one hundred no-recipe recipes—each gloriously photographed—to make with the ingredients you have on hand or could pick up on a quick trip to the store. You'll see how to make these meals as big or as small as you like, substituting ingredients as you go.
 
Fried Egg Quesadillas. Pizza without a Crust. Weeknight Fried Rice. Pasta with Garbanzos. Roasted Shrimp Tacos. Chicken with Caramelized Onions and Croutons. Oven S'Mores. Welcome home to freestyle, relaxed cooking that is absolutely yours.
About the Author
---
Sam Sifton is an assistant managing editor of The New York Times, responsible for culture and lifestyle coverage, and the founding editor of NYT Cooking. Formerly the national news editor, restaurant critic, and culture editor, he joined The Times in 2002 after stints at Talk magazine, New York Press, and American Heritage magazine. He is the author of Thanksgiving: How to Cook It Well and See You on Sunday: A Cookbook for Family and Friends.
Praise For…
---
" . . . perfect for busy parents and people who don't always have the patience to follow detailed directions. You'll basically be ready to star in an episode of 'Chopped' in no time."—the Skimm

"Sam Sifton wants you to ditch the recipe and have some fun in the kitchen. The founding editor of NYT Cooking does away with fussy ingredient lists and step-by-step instructions, opting instead for casual, conversational descriptions that allow home cooks to improvise, learn and evolve."—TimeOut

" . . . his no-recipes are easy to follow and involve techniques and preparation times that become instinctual even for a recipe-bound cook like me."—Barry Estabrook, Wall Street Journal

"The kind of food that is best prepared in loungewear and bears an excellent chic-to-effort ratio."—Keziah Weir, Vanity Fair

"Every visionary cookbook writer is a bit of a missionary, and Sifton is no exception. In the friendliest way possible, he's out to win converts. Throw away your crutches, he's saying, and start cooking by faith alone."—Laura Shapiro, The Atlantic

". . . perfect to keep in your back pocket (and the back of your pantry) for those days when you really meant to go to the grocery store, but didn't quite make it."—Eliza Green, mindbodygreen

"Innovative, fun, and freeing, this outstanding offering will reenergize the creative spirits of novice and experienced home cooks alike."—Publishers Weekly