Pacey Packer Unicorn Tracker 2: Horn Slayer (Pacey Packer, Unicorn Tracker #2) (Hardcover)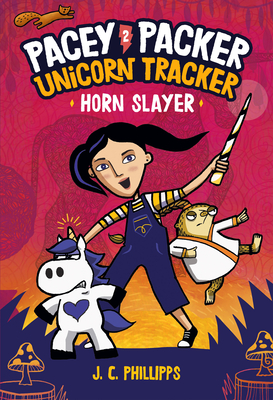 Other Books in Series
This is book number 2 in the Pacey Packer, Unicorn Tracker series.
Description
---
Pacey and Slasher the Unicorn are back and THIS time it's personal in this laugh-out-loud, middle-grade graphic novel series with ATTITUDE that's just right for fans of Phoebe and Her Unicorn, Real Friends, and anyone who loves (or hates!) unicorns!

The last time Pacey Packer was in Rundalyn, the world of unicorns, she sliced the horn off of Arkane, the Evil Apha Unicorn, and took away his power. KI-AHHHH! TAKE THAT BAD GUYS! Now the unicorns and other creatures under Arkane's rule call her . . . THE HORN SLAYER!

Pacey may be a LEGEND in the world of unicorns, but she didn't finish the job. The statue children in Rundalyn still need to be freed. And back in the human realm, she's still stuck walking dogs and babysitting her little sister-not to mention dealing with Slasher, the world's grumpiest stuffed unicorn. (Hmmph! Guess some people can't deal with being a sidekick!).

Rundalyn needs a hero though and it's up to Pacey to go back and finish what she started. With Slasher's help, can she use the power of the unicorn horn to rescue the statue kids and escape the fury of the Great (but seriously horn-less and now SERIOUSLY mad at her) Arkane?!
About the Author
---
J.C. Phillipps is a picture book creator and longtime graphic novel reader as well as the owner of a somewhat extensive (though mostly accidental) unicorn collection. Like Pacey, she is occasionally snarky. Unlike Pacey, she hasn't met a real unicorn--yet. J.C. lives in Connecticut with her husband and son. Pacey Packer: Unicorn Tracker is her middle-grade and graphic novel debut. Visit her online @JCPhillipps.