My Life: Growing Up Asian in America (Paperback)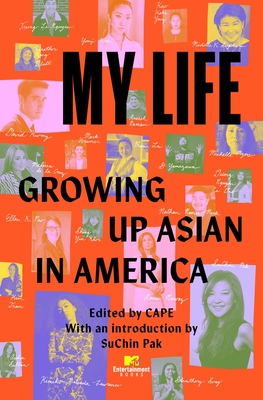 $17.99

Available - On our shelves now
Description
---
A collection of thirty heartfelt, witty, and hopeful thought pieces "that highlights the humanity and multitudes of being Asian American" (Kirkus Reviews, starred review), for fans of Minor Feelings.

There are 23 million people, representing more than twenty countries, each with unique languages, histories, and cultures, clumped under one banner: Asian American. Though their experiences are individual, certain commonalities appear.

-The pressure to perform and the weight of the model minority myth.
-The proximity to whiteness (for many) and the resulting privileges.
-The desexualizing, exoticizing, and fetishizing of their bodies.
-The microaggressions.
-The erasure and overt racism.

Through a series of essays, poems, and comics, thirty creators give voice to moments that defined them and shed light on the immense diversity and complexity of the Asian American identity. Edited by CAPE and with an introduction by renowned journalist SuChin Pak, My Life: Growing Up Asian in America is a celebration of community, a call to action, and "a vital record of the Asian American experience" (Publishers Weekly). It's the perfect gift for any occasion.

Featuring contributions from bestselling authors Melissa de la Cruz, Marie Lu, and Tanaïs; journalists Amna Nawaz, Edmund Lee, and Aisha Sultan; TV and film writers Teresa Hsiao, Heather Jeng Bladt, and Nathan Ramos-Park; and industry leaders Ellen K. Pao and Aneesh Raman, among many more.
About the Author
---
CAPE (Coalition of Asian Pacifics in Entertainment) has advanced Asian and Pacific Islander (API) representation on screen since 1991. Through industry-renowned talent development programs including the CAPE New Writers Fellowship and CAPE Leaders Fellowship, script consulting, and CAPE Database talent referrals, and the grassroots audience movement #GoldOpen, CAPE improves the landscape, relevance, and power of APIs in entertainment from the writers' room to the boardroom to the living room. Learn more at CapeUSA.org and @CapeUSA on IG/Twitter.

SuChin Pak is a veteran journalist with more than twenty-five years of experience. She is best known for being the first Asian American reporter for MTV News. From hosting red carpet shows to reporting on some of the biggest headlines in news, Pak has been a dedicated journalist since the age of sixteen. She currently cohosts a podcast, Add to Cart, about consumerism. She has focused much of her work on issues involving social change.
Praise For…
---
"Taken all together, the individually significant pieces elevate and illuminate the multifaceted, intersectional experiences of Asian Americans across sectors and industries, giving voice to their struggles, achievements, and resilience….[E]normously engaging."
— Booklist (starred review)

"A luminous book that highlights the humanity and multitudes of being Asian American."
— Kirkus (starred review)

"Enriched by the diversity of its contributors and the intimacy of their pieces, this is a vital record of the Asian American experience."
— Publishers Weekly