Fox and I: An Uncommon Friendship (Paperback)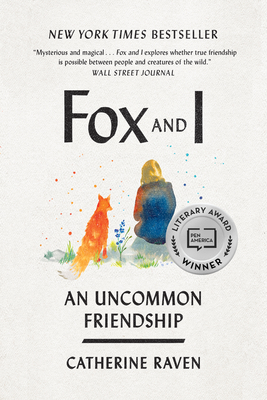 $18.00

Available - On our shelves now
Staff Reviews
---
This debut is beautiful and moving. Catherine's relationship to Fox, the natural world, and civilization will give every reader so much to think about. I love that she tells part of the story from Fox's perspective; her writing sings in every chapter, but the sheer imagination and empathy of those sections blew me away. I also loved how Raven's descriptions resonates so perfectly with her writing about favorite books ("The Little Prince," "Moby-Dick," and "Horton Hears a Who").
Although this book is unlike anything else I've read before, it gave me some of the frissons of recognition and awe that I got from reading the works of Farley Mowat and Azar Nafisi-- Mowat for his personal observations and love of wild things and Nafisi for her interpretations of literature.
This is one of my favorite books in a long time-- one I will treasure for myself and give to others.
(One of Tegan's top 2021 books!)
— From
Tegan
July 2021 Indie Next List
---
"On the surface, this is a story about a woman befriending a fox, which is in and of itself remarkable enough, but it is also a powerful meditation on nature, living in the world with and without people, as well as the power of literature."
— Cody Morrison , Square Books, Oxford, MS
Description
---
Winner of the PEN/E.O. Wilson Literary Science Writing Award * 2022 Nautilus Book Awards Gold Winner * Shortlisted for the John Burroughs Medal * Finalist for the Stubbendieck Great Plains Distinguished Book Prize * Shortlisted for a Reading the West Book Award
Instant New York Times Bestseller * A Christian Science Monitor Best Book of the Year * 2021 Summer Reading Pick by Buzzfeed * New York Times Book Review * Kirkus * Time * Good Morning America * People * Washington Post "The book everyone will be talking about. . . . Full of tenderness and understanding."--New York Times An "extraordinary" (Oprah Daily) memoir about the friendship between a solitary woman and a wild fox.
When Catherine Raven finished her PhD in biology, she built herself a tiny cottage on an isolated plot of land in Montana. She was as emotionally isolated as she was physically, but she viewed the house as a way station, a temporary rest stop where she could gather her nerves and fill out applications for what she hoped would be a real job that would help her fit into society. In the meantime, she taught remotely and led field classes in nearby Yellowstone National Park.
Then one day she realized that a mangy-looking fox was showing up on her property every afternoon at 4:15 p.m. She had never had a regular visitor before. How do you even talk to a fox? She brought out her camping chair, sat as close to him as she dared, and began reading to him from The Little Prince. Her scientific training had taught her not to anthropomorphize animals, yet as she grew to know him, his personality revealed itself and they became friends.
From the fox, Catherine learned the single most important thing about loneliness: we are never alone when we are connected to the natural world. Friends, however, cannot save each other from the uncontained forces of nature.
Fox and I is a poignant and remarkable tale of friendship, growth, and coping with inevitable loss--and of how that loss can be transformed into meaning. It is both a timely tale of solitude and belonging as well as a timeless story of one woman whose immersion in the natural world will change the way we view our surroundings--each tree, weed, flower, stone, or fox.
About the Author
---
Catherine Raven is a former national park ranger at Glacier, Mount Rainier, North Cascades, Voyageurs, and Yellowstone national parks. She earned a PhD in biology from Montana State University, holds degrees in zoology and botany from the University of Montana, and is a member of American Mensa and Sigma Xi. Her natural history essays have appeared in American Scientist, Journal of American Mensa, and Montana Magazine. You can find her in Fox's valley tugging tumbleweeds from the sloughs. She lives in Emigrant, Montana.