Fortune: A Novel (Hardcover)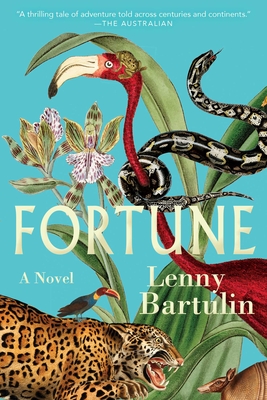 $25.99
Available - On our shelves now
Description
---
An audacious, entertaining historical epic spanning continents and centuries, for readers of David Mitchell, Colum McCann, Kate Atkinson, and Eleanor Catton.

Fortune is a dazzling, endlessly surprising historical novel that opens the day Napoleon leads his victorious Grande Armée into Berlin after having conquered Prussia in battle. As crowds throng the streets to witness the emperor in his glory, a handful of lives that briefly touch are sprung from their orbits and set on courses that will take them across Europe and around the world—their fates and desires sometimes intersecting—to strange lands in the Caribbean and South America, the Australian continent and Van Diemen's Land, and back to a Europe now transformed.

A frustrated general in Napoleon's army, billeted with one of Berlin's finest families. Elisabeth, a passionate young woman living in that house. The young man with whom she locks eyes through a window as he's engaged in a sexual encounter at the moment Napoleon makes his grand entrance. An entrepreneur in New World exotica, whose house is the setting for the tryst. A slave from Suriname, Mr. Hendrik, with his resentful white American companion, who have traveled to Berlin to sell a barrel of electric eels for their master. And a lost soul enamored of philosophy in the coffeehouses where students gather, who decides to join Mr. Hendrik and the American on their return voyage.

Through their stories amid war, cataclysm, colliding cultures, and misadventure, Lenny Bartulin imagines the ways that chance and the grand events of history shape the course of ordinary lives.
About the Author
---
Lenny Bartulin is the author of four previous novels published in Australia, including his Sydney Noir Trilogy. His novel Infamy was longlisted for the 2015 Tasmanian Premier's Literary Awards, the Tasmania Book Prize, and the Margaret Scott Prize. In 2010, The Black Russian, the second novel in his Sydney Noir Trilogy, was shortlisted in the Ned Kelly Awards for Best Novel. Fortune is his American debut. He has lived in Sydney and the Blue Mountains, and currently resides in Hobart with his wife and son.
Praise For…
---
"Sweeping . . .   A fascinating excursion through history and foreign lands. Expect outcomes to be like fortune in life: deserved and undeserved, some happy enough, many tragic, and all frequently beyond one's control."—Booklist, starred review

"Bartulin channels Henry Fielding in this spirited account of a handful of strangers who cross paths across decades and the planet. . . . [His] intricate canvas handily captures the vagaries of human life."—Publishers Weekly

"Bartulin is one of Australia's great writers—a modern-day Alexandre Dumas—and Fortune once again confirms it. Heartbreaking and heart stopping, wild and adventurous and impossible to put down."—Willy Vlautin, award-winning author of Don't Skip Out on Me and The Night Always Comes

"A thrilling tale of adventure told across centuries and continents . . . It is savage and nihilistic, wise and kind, never less than gripping, and it is over far sooner than you want it to be."—Australian

"Sparkling, witty, fast-paced, and a joy to read."—Daily Telegraph

"An audacious, brilliantly crafted take on history—a novel about the past like no other. It draws your breath in the same way as if you'd witnessed a jigsaw puzzle tossed and scattered into the air only to have its pieces land on the ground in perfect unity."—Guardian Australia

"Full of energy and confidence."—Sydney Morning Herald

"Those who love epic narratives, intrigue, and detailed historical writing will find a lot to enjoy here."—Books + Publishing

"Fortune is a supremely entertaining novel—witty, gripping and endlessly surprising—told with great energy and charm. Lenny's great talent is showing that even if the great upheavals of history are usually set in motion by famous individuals, it is those lost to history who are left to pick up the pieces and find their way through the ensuing chaos."—Chris Womersley, author of Bereft and City of Crows

"Full of action, humour and unexpected connections."—Advertiser

"He shuffles the overlapping lives of characters as if they are cards in a deck of infinite possibility and combination, thus exposing their selfless acts and darkest secrets."—Australian Book Review

'Throughout this epic novel, Bartulin shows himself to be an exceptionally strong wordsmith. . . . His sentences are taut, detailed, and hyper-efficient, and he uses them to remind us of some important, timeless truths about the way of the heart."—Weekend Australian

"I was enthralled by the historical puzzle, gripped by the character connections and disappointments (so tantalisingly close at times) and entertained by the colour and thrilling pace of Lenny Bartulin's storytelling."—Booklovers Book Reviews