Jennifer Juniper: A Journey Beyond the Muse (Hardcover)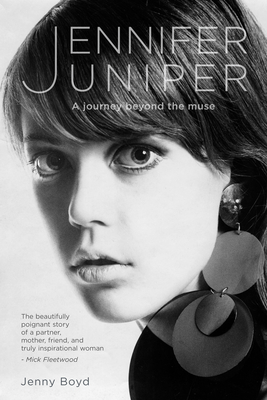 $24.95
Available to order - Usually arrives at our store in 1-5 days
Staff Reviews
---
For those of us that came of age in the late sixties and seventies, this is a fascinating and enjoyable tale by Jenny Boyd of her experiences and life that she shared with several (mostly) British rock 'n roll musicians, from when they were struggling until they were well established stars. She shared her life with o.a. Mick Fleetwood, George Harrison, Eric Clapton and Donovan, and had at least a bit of influence on their writings (including Donovan's Jennifer Juniper). insightful and entertaining read!
— From
Krijn
Description
---
"The beautifully poignant story of a partner, mother, friend, and truly inspirational woman." - Mick Fleetwood "...a must read for those interested in Beatles history." - Beatlesfan Magazine Jenny Boyd's extraordinary life is the stuff of movies and novels, a story of incredible people and places experienced at a pivotal time in the 20th century. As an up-and-coming young model, Jenny found herself at the heart of Carnaby Street in London, immersed in the fashion and pop culture of the Swinging 60s. With boyfriend Mick Fleetwood, sister Pattie, George Harrison and the rest of the Beatles, she lived the London scene. But as a natural Flower Child, Jenny soon became part of the counter-culture in San Francisco during the Flower Power era, witnessing the Summer of Love; she was the inspiration for Donovan's famous song, Jennifer Juniper, and her photograph was featured inside the box set of his eponymous album A Gift from a Flower to a Garden. After working in The Beatles shop, Apple, the first of its kind, Jenny attended Maharishi Mahesh Yogi's ashram in India to study meditation with her sister and the Beatles, witnessing their creativity and the genesis of songs that would later appear on the White Album. Despite being attuned to the spiritual bloom and innocence of the 60s, Jenny also experienced first-hand the turmoil and decadence of the 70s and 80s. Her two marriages to Mick Fleetwood, founder member of Fleetwood Mac, brought her to the forefront of the world of rock and roll - and its fame, money, drugs and heartache. Struggling in the darkness to find and develop her own voice and identity, Jenny went to college, achieving a Masters in Counseling Psychology and a PhD in Humanities - her dissertation on musicians and creativity became the critically-acclaimed book Musicians in Tune. Jenny has spent her life in the company of some of the greatest musical and cultural influencers of the last 50 years - and the journey she takes to finding her own sense of self and creative ability makes Jennifer Juniper a truly captivating and inspiring story.
About the Author
---
Jenny Boyd ========== Jenny Boyd continues to be a sought-after speaker on the subject of musicians, culture, and creativity. Jenny has lectured on musicians and creativity at Michigan State University and has appeared on radio and tv programmes across the US and in the UK.