School of X: A Marvel: Xavier's Institute Anthology (Marvel Xavier's Institute) (Paperback)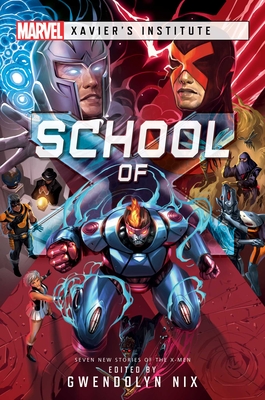 $16.95
Email or call for price
Description
---
The next generation of the astonishing X-Men grow into true super heroes against their deadliest enemies, in this wide-ranging Marvel anthology.

The New Charles Xavier School for Gifted Mutants isn't all it's cracked up to be: The food is so-so, and it's cold eleven out of twelve months, not to mention the creepy bunker vibes with mysterious tech popping up all over the place. But for the latest mutants to take on the mantle of X-Men, it's home. Under the stewardship of Emma Frost, Cyclops, and Magneto, these new recruits learn to control their powers and defeat villainy. Yet danger lurks within the academy, and it isn't just monsters or evil geniuses. Now, these fresh X-Men must take what they've learned and put their unique powers to the test against unexpected adversaries – from cyborgs and the undead to temporal chaos, and even alternate versions of themselves.
About the Author
---
A book dragon from the beginning, Gwen has amassed a hoard of science fiction and fantasy stories and is always hungry for the next tale to devour. Once upon a time, she'd been a marine biologist, but through a series of events, has ended up as an editor. Like Sasquatch, she can be found somewhere in the Rocky Mountains writing her next novel, researching things that go bump in the night, and taking the road less traveled.

JALEIGH JOHNSON is a fantasy author living and writing in the wilds of the Midwest. Her middle grade debut novel The Mark of the Dragonfly is a New York Times bestseller, and her other books from Delacorte Press include The Secrets of Solace, The Quest to the Uncharted Lands, and The Door to the Lost. In addition to the Marvel novel Triptych for Aconyte books, she has written several novels and short stories for the Dungeons and Dragons Forgotten Realms fiction line published by Wizards of the Coast. Johnson is an avid gamer and lifelong geek.

ROBBIE MacNIVEN hails from the highlands of Scotland. A lifelong fan of sci-fi and fantasy, he has had over a dozen novels published in settings ranging from Marvel's X-Men, to Descent: Legends of the Dark, to Warhammer 40,000. Having completed a doctorate in Military History from the University of Edinburgh in 2020, he also possesses a keen interest in the past. His hobbies include historical re-enacting and making eight-hour round trips every second weekend to watch Rangers FC.

CATH LAURIA is a Colorado girl who loves snow and sunshine. She is a prolific author of science fiction, fantasy, suspense and romance fiction, and has a vast collection of beautiful edged weapons.

AMANDA BRIDGEMAN is a versatile writer who enjoys working across both original and tie-in worlds. She is a two-time Tin Duck Award winner, an Aurealis and Ditmar Awards finalist, and author of several novels and short stories, including the Aurora series, The Time of the Stripes, Scribe Award winning novel Pandemic: Patient Zero, and the Salvation series consisting of The Subjugate and The Sensation, which is currently being developed for TV by Anonymous Content and Aquarius Films.

PAT SHAND is the creator/co-creator of numerous comic books including Destiny NY, Snap Flash Hustle, Breathless, and Afterglow, as well as writing extensively for properties such as Charmed, Adventure Time, Disney Villains, and Angel. He has also written and produced off-off Broadway theatre and original stories for Marvel, including Guardians of the Galaxy: Space Riot and Iron Man: Mutually Assured Destruction. He runs the independent publisher Space Between Entertainment in New York, where he lives with his wife Amy and their army of cats.

Xeric Award-winning graphic novelist NEIL KLEID authored Ninety Candles, a novella about life, death, legacy and comics, and the acclaimed graphic novels Brownsville and The Big Kahn. He has written several comic books and graphic novels; adapted Jack London's novel Call of the Wild into sequentials for Penguin Books; did the opposite for the seminal Marvel Comics' storyline Spider-Man: Kraven's Last Hunt; and co-authored Powers: The Secret History of Deena Pilgrim, a novel based on the award-winning comic book series. Savor, his culinary adventure graphic novel with John Broglia and Frank Reynoso, was released by Dark Horse Comics. He lives with wife, kids and dog in New Jersey by way of Detroit.

CARRIE HARRIS is a geek of all trades and proud of it. She's an experienced author of tie-in fiction, former tabletop game executive and published game designer who lives in Utah.
Praise For…
---
"There's a great mixture of stories in School of X, stories that feature a broad range of characters from across the X-Men titles and gives them a chance to lead their own stories. The stories delve into what makes these people tick, their hopes, their fears, their dreams. It showcases how them learning to become super heroes is more than just figuring out their powers, but learning and growing as people and finding their places in the world. An excellent addition to the X-Men mythos."
— Trans-Scribe

"As always Aconyte and their authors have done a wonderful job at representation in all terms. It is so refreshing to see a broad spectrum of characters that represent those found in real life. More so when this is done so naturally."
— What You Tolkien About

"It was nice to experience these characters through different writing styles. It kind of showed that people are different regardless of our common goals and objectives."
— Sopiha's Book Club

"As with all the novels in Aconyte's Marvel range this book is well-written, pulse-pounding fun."
— Kid Ferrous Reviews