Snowpiercer Vol. 3: Terminus (Paperback)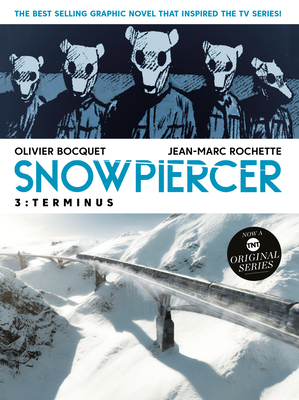 $24.99
Available to order - Usually arrives at our store in 1-5 days
Description
---
A brand new edition the stunning graphic novel which inspired theOscar-winning movie starring Chris Evans (Captain America, Fantastic Four) and Netflix/TNT series starring Jennifer Connelly and Hamilton's Daveed Diggs!

The inspiration for the highly-anticipated TNT TV series that airs Spring 2020, experience the original post-apocalyptic world of Snowpiercer from award-winning creators Olivier Bocquet and Jean-Marc Rochette!

On a future, frozen Earth, humanity has been packed onto self-sustaining trains, doomed to circumnavigate the globe until the end of the interminable ice age - or until the engines give out.

When a scrap of music piques their interest, the inhabitants of the Icebreaker take the ultimate risk and cross the frozen ocean, a vast expanse with no train tracks... and no way to return to them.

The bestselling post-apocalyptic graphic novel series that inspired the movie by Oscar winning director Bong Joon Ho (Parasite) and critically acclaimed TNT/Netflix TV show.
About the Author
---
Olivier Bocquet is a writer, director and translator who has written and directed short films, movies and television. He has written comics for the most prestigious of French Comics publishers, such as Casterman, Dargaud and Dupuis.

Jean-Marc Rochette is a painter, illustrator and cartoonist. He has worked across a variety of projects and genres, from science fiction comics to children's cartoons - and including adaptations of Voltaire's Candide and Homer's Odyssey - but Snowpiercer remains the work by which he is most popularly known.
Praise For…
---
"One of the greatest sci-fi comics ever written!" – Comics Beat

"Dystopian scifi at its best...a marvellous entry into the genre, and one of Europe's finest comics works." - io9

Similar in tone and setting to Alan Moore's V for Vendetta." - Super Punch

"Like WALKING DEAD, this is apocalypse done right!" - Ain't It Cool

"One of the most celebrated sociopolitical tales in comics." – IGN

"...dark and powerful...the political subtleties and social commentary ride close to the surface, providing the depth and timeless quality...That Terminus not only hails back to this original subject, but also introduces new pressing concerns for the most vulnerable in society, is both welcome and impressive." - Comics Alliance