The Wild Laughter: Winner of the 2021 Encore Award (Paperback)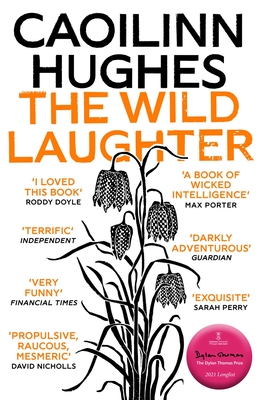 $16.00
Available - On our shelves now
Description
---
'A grand feat of comic ingenuity, mischievous and insightful, and full of resonance for the way we live now... So original and vibrant.' Encore Award Judges

FINALIST FOR THE AN POST IRISH NOVEL OF THE YEAR 2020

FINALIST FOR THE RTÉ RADIO 1 LISTENERS' CHOICE AWARD 2020

FINALIST FOR THE DALKEY EMERGING WRITER AWARD 2021

LONGLISTED FOR THE DYLAN THOMAS PRIZE 2021

AN IRISH TIMES, IRISH SUNDAY TIMES, IRISH INDEPENDENT & SUNDAY INDEPENDENT BOOK OF THE YEAR, 2020

It's 2008, and the Celtic Tiger has left devastation in its wake. Brothers Hart and Cormac Black are waking up to a very different Ireland – one that widens the chasm between them and brings their beloved father to his knees. Facing a devastating choice that risks their livelihood, if not their lives, their biggest danger comes when there is nothing to lose.

A sharp snapshot of a family and a nation suddenly unmoored, this epic-in-miniature explores cowardice and sacrifice, faith rewarded and abandoned, the stories we tell ourselves and the ones we resist. Hilarious, poignant and utterly fresh, The Wild Laughter cements Caoilinn Hughes' position as one of Ireland's most audacious, nuanced and insightful young writers.
About the Author
---
Caoilinn Hughes' latest novel, The Wild Laughter (2020) won the Encore Award 2021, was longlisted for the 2021 Swansea University International Dylan Thomas Prize, and was shortlisted for the Dalkey Emerging Writer Literary Award, the An Post Irish Novel of the Year 2020 and the RTÉ Radio 1 Listeners' Choice Award. Her first novel, Orchid & the Wasp (2018), won the Collyer Bristow Prize 2019, was shortlisted for the Hearst Big Book Awards and the Butler Literary Award, and longlisted for the Authors' Club Best First Novel Award and the International DUBLIN Literary Award 2020. Her poetry collection, Gathering Evidence (Carcanet, 2014), won the Irish Times Strong/Shine Award. Her short fiction won The Moth Short Story Prize 2018, an O. Henry Prize in 2019, and the Irish Book Awards' Story of the Year 2020. She holds a PhD from Victoria University of Wellington, New Zealand, and is currently the Oscar Wilde Centre Writer Fellow at Trinity College Dublin.
Praise For…
---
'Powerful...darkly adventurous... An Irish Cain and Abel.'
— Guardian

'A grand feat of comic ingenuity, mischievous and insightful, and full of resonance for the way we live now... So original and vibrant.'
— Encore Award Judges

'I loved this book. So funny and bleak. I loved the madness, the tone, the ending, the realisation, The Third Policeman charge of the whole thing.'
— Roddy Doyle, Booker Prize-winning author of The Commitments

'Exquisite prose and a distinctive portrayal of contemporary life in rural Ireland, conjuring laughter in the face of death with stunning originality.'
— Dalkey Book Festival Emerging Writer judges

'A razor-sharp snapshot of a family and a nation in trouble, in language that is vital and richly inventive... A remarkable achievement... An exhilarating and moving story of an Ireland in disarray.'
— Irish Times

'[A] riotous dark comedy…with much to relish in the crunchy vernacular and ribald humour… Hughes captures a feverish moment of country-wide crisis in a first-rate tale of family debt that isn't only financial.'
— Daily Mail

'Brilliant. A hilarious, poetical black comedy... Do read it.'
— Mark Haddon, author of The Curious Incident of the Dog in the Night-time

'The brothers' relationship is a sharply rendered study in sibling rivalry… a very funny novel. There's a spiky levity to dialogue and narration alike, with liberal sprinklings of snark, gallows humour and word play… The story's elegiac quality is well served by Hughes' distinctive prose, which blends earthy vernacular with belletristic high style… The Wild Laughter is celebratory in its own peculiar way, a sombre and sardonic paean to the "culchies" from whom nearly all of us are descended.'
— Financial Times, Houman Barekat

'A talented writer who is skilled in character and language, Hughes plays masterfully with her syntax in this novel... [Her] poetry background rings true in this second novel, her lyrical voice and witty humour carrying the otherwise heavy story.'
— Books, Ireland

'A finely tuned symphony... Hughes's dark comedy reads like a post-boom Beckett, if he'd been let run riot on a heart-scald of a potato farm in Co Roscommon... Dazzling doesn't even come close.'
— Sunday Independent (Ireland)

'A dark, epic family saga about rural Ireland… The end is as shocking as it is inevitable...delivering a gut punch that both holds a mirror to Ireland's recent past and warns of the dangers of being too in thrall to ancient history.'
— i

'Some of the best moments in the novel come from minor characters... There's a darkness to this novel that makes it worthy of attention... It will be interesting to see where [Hughes'] obvious gifts take her next.'
— New York Times

'Terrific... Full of energy and mordant wit.'
— Independent

'Sharp, witty and full of gorgeous language.'
— Rick O'Shea, Best Books of 2020

'Suffused with brutal insights, intellectually vibrant dark humour, tenderness and dextrously robed in a richly lyrical, yet emphatic, prose style as scintillating as it is original. This novel melds poetry and fiction to offer any reader nothing short of an exquisite and thoroughly entertaining delight, rippling with absurd fun and stark truths.'
— Yorkshire Times

'The immense power of this story lies in the gradual unfolding of the family relationships and dynamics... Brutally raw and dark, yet blackly comic… poignant and unforgettable.'
— NB magazine

'Hughes is attentive to the larger political context of her narrative and to more granular details of language and place, and her prose is vivid and unsparing... A striking novel about fathers and sons in 21st-century Ireland.'
— Kirkus

'After the widespread critical acclaim of her debut Orchid and the Wasp, Hughes' firecracker language and unruly wit returns with a bedraggled family saga set during the financial crash... A powerfully original voice in Irish fiction.'
— Irish Independent

'The prose has extraordinary velocity. A book of wicked intelligence and tender heart.'
— Max Porter, author of Lanny

'Splendidly witty and dark... An intelligent and lacerating depiction of paternity and pathos, one that is boldly told and sensitively composed.'
— RTÉ

'A memorable family drama replete with vivid characters who occupy different poles of the economic landscape in the wake of the 2008 global financial meltdown.'
— The Millions, Most Anticipated Novels

'A taut, acerbic family drama... Hughes is both an incisive observer of contemporary life and someone who's able to penetrate its surface to explore more enduring themes. The Wild Laughter is a compact but potent novel that explores its themes of love, loyalty and sibling rivalry with keen insight.'
— Shelf Awareness

'The Wild Laughter is painfully smart, comically brilliant and boldly subversive. Hughes makes her subject matter entirely her own while providing a lacerating look at the world we live in.'
— Olivia Sudjic, author of Sympathy

'This dazzling family portrait from the acclaimed novelist, short story writer and poet makes for one of the year's most essential reads... It is a punch in the gut. Yet, for all that, it leaves you craving anything and everything Caoilinn Hughes has ever written or will ever write.'
— Lunate

'Among the darkness of The Wild Laughter's underlying themes, Hughes finds life, light and humour. This is a tale told firmly in the best traditions of Irish fiction – funny, black, poignant and resonant.'
— Tom Bromley

'The narrative voice is ingenious... Hughes thoroughly inhabits the mindset of a lad who fumes with a resentment that's more comical than dangerous... Hughes sets the action against the long, rotting tail of the Celtic Tiger... Sprinklings of Irish and the lightest of references supply a backdrop of Irish history and literature... [Its scenes] are rendered with keen observation. But beyond the humour and verbal exuberance is a slowly darkening portrait of guilt and trauma.'
— Literary Review

'Hughes' writing...has a dry, dark humour that recalls figures such as Samuel Beckett, J.M. Synge and Brian Friel... The Wild Laughter meditates on this dialectic of paternity, asking whether we can anchor ourselves in the past without being consumed by it. Taking its cues from a grand comedic tradition, yet asserting its originality with every line, Caoilinn Hughes's prose answers that question resoundingly in the affirmative.'
— TLS

'The Wild Laughter is a propulsive, raucous, funny and deeply moving novel with a magnetic narrative voice. I loved it.'
— David Nicholls, author of One Day

'What a profound, much needed, urgent novel. The Wild Laughter is dark and beautiful, and touches the heart of what deep suffering our political systems have brought upon the world, but seen in that clearest way – intimately, microscopically, through family. The myriad ways they can love, hurt and betray one another... So well done.'
— Fatima Bhutto, author of The Runaways

'The Wild Laughter is a raucously intelligent, tough and tender black comedy written in jaggedly beautiful prose and confirms Caoilinn Hughes as a restlessly inventive, exciting new voice in Irish literature.'
— Colin Barrett, author of Young Skins

'Powerful...darkly adventurous... An Irish Cain and Abel... Hart's embittered anguish is resplendent throughout; his role in one of the book's key scenes makes for an outstanding passage of manipulation, misery and culpability. The Wild Laughter's reckoning is as much concerned with these far-reaching effects of history as with the ongoing brutality of austerity.'
— Guardian

'A razor-sharp snapshot of a family and a nation in trouble, in language that is vital and richly inventive... A remarkable achievement... The pedigree of Hughes' writing is already established... The Wild Laughter will surely see her gain further acclaim – it's an exhilarating and moving story of an Ireland in disarray.'
— Irish Times

'Hughes's sharply observed [novel] takes a stark look at an Irish family's love and betrayal amid the recession of 2008... Hughes's taut, voice-driven work balances colorful dialogue with wry commentary, which extends from the characters to the shifting values of their country... This solid family drama stands out by doubling as a poignant state-of-the-nation novel.'
— Publishers Weekly

'The Wild Laughter is a stunning piece of writing. Hughes' sentences are so well-crafted I read many of them several times and discovered fresh layers with each read. Her dialogue is razor sharp and shot through with Beckett-esque black humour. The characters are perfectly drawn. A strong and early contender for Irish novel of the year.'
— Jan Carson, author of The Fire Starters

'Caoilinn Hughes' penetrating and funny The Wild Laughter (Oneworld) also has a struggling "patriach", and two warring brothers, but her real subject is our contradictory island, Ireland.'
— Sebastian Barry, Books of the Year 2020

'Set in the aftermath of the Celtic Tiger, [The Wild Laughter] is a dark comedy on euthanasia.'
— Irish Times, Most Anticipated Titles 2020

'Hughes' scenes linger in the brain like the best of short stories. Though their affect and comedy is cinematic in charge and rhythm, their literary flair keeps the reader guessing on a sentence-to-sentence level... [The Wild Laughter] solidifies Caoilinn Hughes' reputation as one of Ireland's great new writers.'
— The Blue Nib Literary Magazine

'The Wild Laughter is a glorious, tender, wounded and furiously funny book. It couldn't suit our times better if it tried.'
— A.L. Kennedy, author of Serious Sweet

'Caoilinn Hughes is a massive talent.'
— Anthony Doerr, Pulitzer Prizewinning author of All the Light We Cannot See

'Caoilinn Hughes is a writer of immense ability and vitality – she's a true natural, with the talent to match her ambition.'
— Kevin Barry, author of Night Boat to Tangier

'A memorable family drama replete with vivid characters who occupy different poles of the economic landscape in the wake of the 2008 global financial meltdown.'
— The Millions

'[The Wild Laughter] is about what happens to a country when the rug gets pulled out from under everyone's feet. Which historically has happened to Ireland on a regular basis, and which the rest of the world is now experiencing. Sharp dialogue, wicked humour, awkward sexy times – did I mention she was Irish? Is she the new Eimear McBride? Could be.'
— Readings, Australia

'Hughes is never less than a joy. Hers is a waggish voice wrangling with nationhood, family, ethics and religion with dark humour.'
— Sydney Morning Herald

'A memorable, insightful portrait of a complex family in an equally complex economic and emotional situation. Caoilinn Hughes gets the balance just right: the pathos is real but never heavy-handed; the humour is black but never mean-spirited. The Wild Laughter succeeds on all levels.'
— Patrick deWitt, author of French Exit

'A dark, compulsive read, filled with a laser-sharp wit, all told within the claustrophobic setting of the rural family home.'
— Guardian, 'Best Books About Brothers'

'Hughes' debut, Orchid and The Wasp, set in the turmoil of the post-2008 economic crisis, signalled a new voice of thrilling originality… The plot unfolds with slow devastation... But it is the ferocity and brilliance of Hughes' writing that leaves the biggest mark.'
— The Adelaide Advertiser

'A profoundly dark tale of Irish familial tragedy set in post-crash Roscommon, The Wild Laughter is marked by a subversive vein of black comedy and an irresistible if brutal charm that sucks readers in despite the bleakness of the narrative... A novel that explores the nature of pride, dignity, faith and desperation with caustic candour and grudging beauty.'
— Extra.ie

'The writing here is some of the best I have read, incredible for a second novel. Beautiful, beguiling prose poetry, that seems to capture the mood of a nation... without a doubt a gem of contemporary Irish literature and remains a highlight of the year's reading.'
— Otago Daily Times

'From the first arresting paragraph of The Wild Laughter, Caoilinn Hughes enthrals us on a journey through contemporary Ireland, one that even the most far-flung reader will find delightful, in all of its hilarity, peculiarity and states of flux.'
— Elnathan John, author of Born on a Tuesday

'A slim dynamite book with characters that will stay with you, and a must-read if you love the English language and all it is capable of.'
— Bookseller, The American Book Center, The Hague

'Hughes paints a vivid picture of an Ireland first caught up in greed then brought to its knees by the crash and its fallout. There's a rich vein of very black humour running through this novel until it reaches its sombre closing chapters... A smartly delivered piece of tragicomedy which tackles an issue we all need to confront whether we have faith or not.'
— A Life in Books

'Weaving together the bleakness of post-recession Roscommon, the age-old drama of land and inheritance, profound ethical questions about the right to die and a waspish vein of subversive gallows humour, The Wild Laughter has a brutal charm that subverts the tragedy of its subject and setting.'
— Extra.ie

'An impressive Celtic Tiger tragedy.'
— Martin Doyle, Books Editor, Irish Times

'This novel will take its rightful place among the best of international writing today.'
— Mary Burnham, Bookseller for Dubray

'I think [Irish literature is] better than it has been for ages… Caoilinn Hughes…has a wonderful, mad book called The Wild Laughter that I would recommend wholeheartedly.'
— Interview with Roddy Doyle

'An absolute stunner of a novel.'
— Irish Independent

'Like Anna Burns and Eimear McBride, Caoilinn Hughes is also giving Irish literature an unforgettable voice while tackling serious issues at the same time. Definitely style and substance.'
— The Bobsphere blog

'I've been raving about Caoilinn Hughes's The Wild Laughter for months now. Steeped in dark, Irish humour, it's the story of a rural family coming apart at the seams. It made me laugh a lot. I also entertained feelings of utter devastation. It left me seethingly jealous of Hughes's wonderful way with language and story. Reading her writing is like excavating an archaeological site. Every reading reveals another layer of wit, wisdom and acidic observation. I'm already deep into my second excavation.'
— Jan Carson, in

'Hughes's grim, earthy novel ultimately resolves itself as a compelling courtroom drama.'
— Mail on Sunday

'Hughes's poetry background rings true in this second novel, her lyrical voice and witty humour carrying the otherwise heavy story... With sharp dialogue and acute observations of an Ireland dying as it experiences a rebirth, the writing of The Wild Laughter is painstaking and deliberate.'
— Books Ireland

'Caoilinn Hughes has powerfully captured the Ireland of a decade ago when the economy collapsed like a deck of cards built on corrupt banks and casino developers. Her novel The Wild Laughter is mesmeric in its language, frenetic in its storytelling, yet engrossing in its narrative of one family brought down by a low and dishonest decade – just like the nation.'
— Joe Duffy, RTÉ

'Told in fresh, spiky prose, this tale of two warring brothers and their terminally ill father is a metaphor for the boom-to-bust saga of the Celtic tiger Ireland. It was justifiably nominated for Novel of the Year at this year's Irish Book Awards.'
— Irish Times, '50 Irish Novels of the 21st Century'

'[The Wild Laughter] wowed me... Hughes's writing is truly inventive, with the richness of poetry. She brings rural Ireland to the page in a way that is fresh, sharp, and original.'
— Danielle McLaughlin, author of The Art of Falling

'Hughes' writing is fittingly austere, though enlivened with dark, dry humour and humanised by Hart's misplaced trust in his family. She leaves room for compelling reflections on our shifting attitudes towards grief, religion, ethics and national identity.'
— Irish Independent 'Top 20 of 2020'

'Darkly hilarious.'
— Ploughshares

'This novel is as ambitious, stylish, and bold as Hughes's debut [with] the same wit, levity, and sentence-level exuberance I've come to admire in everything Hughes writes.'
— Gulf Coast Magazine

'In my opinion, she is one of the most original and exciting writers in the English language at present. It's not an easy read but it's just so, so good. I also strongly recommend her first book called Orchid and the Wasp.'
— The B List Bookclub, '8 Favourite Books of 2020'

'The language – rich, expressive and often very funny – is the kind it's easy to lose oneself in.'
— Herald, Scotland

'From the first paragraph of The Wild Laughter, Caoilinn Hughes is writing in a totally distinctive voice. It's a completely unique perspective on contemporary Ireland and her dark and comic writing means that she has this unique talent for bringing dark humour into the most painful and difficult of circumstances. It's an exhilarating book from start to finish, and I would highly recommend it.'
— Dalkey Book Festival Emerging Writer judges