DC Comics novels - Harley Quinn: Mad Love (Hardcover)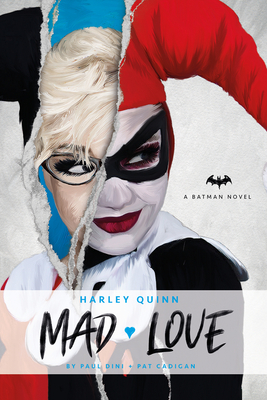 $24.95
Email or call for price
Description
---
The definitive story of Harley Quinn by her co-creator, Paul Dini, and Pat Cadigan, revealing the secrets of her history even as she seeks to kill Batman.

When she was only seven years old, Harleen Quinzel witnessed her father being beaten up by thugs, and then arrested by the police. That night she ran away to the safest place she could think of: Coney Island amusement park. But there, pursued into the Funhouse by the men who brutalised her father, she beheld unimaginable horrors.

Years later, Harleen has put her past behind her, and used her intelligence and ambition to escape her childhood of poverty with a career in psychiatry. Assigned to her first position at Arkham Hospital, she will discover, deep in the asylum, something dangerous and alluring, something quite unlike anything else she has ever known before: The Joker. Because why would you settle for love, when you could have MAD LOVE?

From the moment that Harleen finds a rose on her desk, to the moment she dons her harlequin hat, this is the definitive story that chronicles the obsession, the burning desire, the manic laughter, and the birth of one of the most controversial and popular comic book supervillains ever created: Harley Quinn.


Copyright © 2017 DC Comics. BATMAN, THE JOKER, HARLEY QUINN, SUICIDE SQUAD and all related characters and elements © & TM DC Comics and Warner Bros. Entertainment Inc.
About the Author
---
Paul Dini is best known as a producer and writer for series including Batman: The Animated Series, The New Batman/Superman Adventures, and Batman Beyond. He contributed scripts to Transformers and Animaniacs, and wrote and story edited for the adventure series Lost. He's written for DC Comics titles including Harley Quinn and the graphic novel Dark Night: A True Batman Story. He's won five Emmys, the Eisner, Harvey, and Annie awards.

Pat Cadigan is a science fiction, fantasy, and horror writer, three-time winner of the Locus Award, twice-winner of the Arthur C. Clarke Award, and one-time winner of the Hugo Award. She wrote a novelization and sequel to Lost in Space, novelizations of two episodes of The Twilight Zone, Cellular novelization, and the novelization and sequel to Jason X.
Praise For…
---
"Harley Quinn's re-introduction by Dini and Cadigan as a woman with agency makes her an anti-hero for new generations" - Adventures in Poor Taste

"does exactly what this new line of books should with beloved stories: expand the original but never disrespect it...If you're a Harley Quinn fan, I highly recommend this book" - Batman on Film

"she actually feels like a real person with real agency in a story that's all her own. For fans of Harley Quinn and comics in general, I can't stress enough how much you need this book in your life" - The BiblioSanctum

"I would highly recommend this...You don't need prior knowledge to enjoy this book, but even better, those who know Harley and The Joker inside out will still read about something new." - Geekisphere

"Mad Love is an exciting read that reveals how two men create one of the ultimate anti-heroes" - The Koalition

 "never wavers from its message of female independence...Transforming multiple times, Quinn is able to sheds her figurative skin, always keeping the reader in awe" - Forces of Geek