Drawing Animals (Paperback)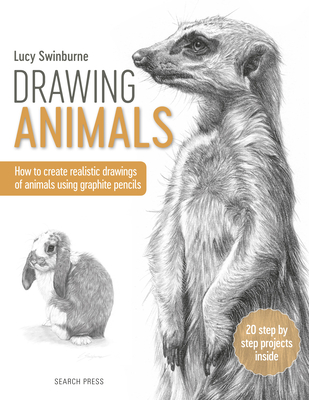 $19.95
Available to order - Usually arrives at our store in 1-5 days
Description
---
A new, updated guide to drawing a wide variety of wild and domestic animals by master artist Lucy Swinburne.

Brand-new, updated edition of the bestselling book by popular artist, Lucy Swinburne.

Whether you want to capture a beloved pet cat or a magnificent wolf on paper, this book provides a complete course in how to draw them. All the essential drawing techniques and materials you need are explained clearly and simply by Lucy, and two brand new sections show you how to sketch the key features of a wide variety of animals such as eyes, ears and fur, and how to capture movement. The book includes 8 exercises, so you can put you can put your new knowledge into practice, and then dives straight into 10 step-by-step projects that draw on a diverse range of subjects from various continents, including meerkats, lizards and horses.

This inspiring book is a must-have for any artist seeking to capture the spirit and character of animals in their drawings.
About the Author
---
Lucy Swinburne trained as a Graphic Designer in 1988 and was selected as a finalist in the Daily Mail's first "Not the Turner Prize" competition in 2003. She subsequently exhibited at the Mall Galleries. Lucy also writes articles for the Leisure Painter magazine. Lucy holds regular workshops for artists, where she tutors students in pastel techniques. These painting workshops are based on animal subjects, wildlife or domestic and more recently, people portraits. Lucy also provides individual tuition, demonstrates for art groups and runs a private class in Hertfordshire. In her spare time, she attends dog shows with her own pets.
Praise For…
---
Art Book Review:
"In every single case, [Lucy's] subjects have depth, texture, life and character... she is one of the  best animal artists I've come across."
Henry Malt

Booklist, January 2020:
After some introductory material on history, materials, and getting started drawing animal portraits, UK based artist Swinburne (Drawing Masterclass: Animals, 2013) delves right into the hardest features to capture correctly: facial structures like eyes, ears, and noses; hands and feet; and texture and pattern. Swinburne chooses a four-footed creature for each example: a giraffe's eye, an African wild dog's ear, a buffalo's nose, squirrel hands, leopard paws, the texture of a snake, and the pattern of a Scottish wildcat. In the same way, she walks readers through the steps of ten full portraits, from the exotic red panda and cheetah to the domestic short-haired cat and lop-eared bunny. Nearly the same process guides each drawing: outline, background, unusual features, eyes, shading, depth, and final touches like tone and impact. An almost hand-holding course in capturing animal portraits that are so lifelike it'll be difficult to understand why no one can hear or smell them. Full-size, ready-to-copy photographs are available on the author's website to aid with drawings.
-- Barbara Jacobs