The System Apocalypse Short Story Anthology II: A LitRPG post-apocalyptic fantasy and science fiction anthology (Paperback)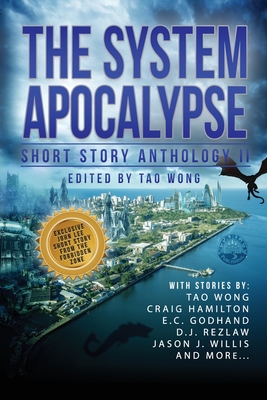 $17.99

Available to order - Usually arrives at our store in 1-5 days
Description
---
Dashing tales of heroics and everyday life abound in the second System Apocalypse short story anthology. Competing alien and human settlements clash, and a simple party planner is caught between in After Party. A New York trashman and his friend fight off loan sharks and exploit the System for gain, finding treasure among others garbage in Completely Trashed and a prisoner must decide between his humanity and humanity itself in WWMRD?
With over ten stories from exciting new voices and a few veterans of the universe, the second anthology highlights the lives and struggles of humanity's best and worst years after System advent.
The second System Apocalypse short story anthology takes place between books 4 and 6 and covers years two to six during that period.
Stories and writers featured in this anthology include:
After Party by D.J. Rezlaw
Daisy's Preschool for Little Adventurers by InkWitch
Ground Control by Craig Hamilton
Song of Whispers by Andrew Tarkin Coleman
Completely Trashed by Mike Parsons
Trouble Brewing by Nick Steele
Seeking and Finding by Chelsea Luckritz
When Our Hero Kills a Ten Story Behemoth by Tao Wong
The Tower of Doom by David R. Packer
Clipper Race by Corwyn Callahan
The Audacity of Soap by E. C. Godhand
WWMRD? by Jason J. Willis