Poetry Is Useless (Hardcover)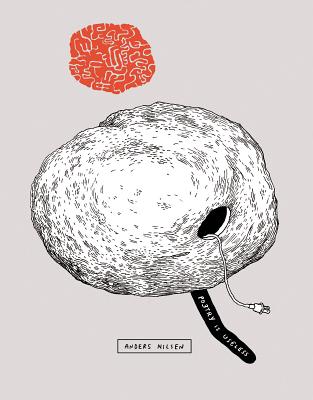 Description
---
In Poetry is Useless, Anders Nilsen redefines the sketchbook format, intermingling elegant, densely detailed renderings of mythical animals, short comics drawn in ink, meditations on religion, and abstract shapes and patterns. Page after page gives way under Nilsen's deft hatching and perfectly placed pen strokes, revealing his intellectual curiosity and wry outlook on life's many surprises.
Stick people debate the dubious merits of economics. Immaculately stippled circles become looser and looser, as craters appear on their surface. A series of portraits capture the backs of friends' heads. For ten or twenty pages at a time, Poetry is Useless becomes a travel diary, in which Nilsen shares anecdotes about his voyages in Europe and North America. A trip to Colombia for a comics festival is recounted in carefully drawn city streets and sketches made in cafes. Poetry is Useless reveals seven years of Nilsen's life and musings: beginning in 2007, it covers a substantial period of his comics career to date, and includes visual reference to his books, such as Dogs & Water, Rage of Poseidon, and the New York Times Notable Book Big Questions. This expansive sketchbook-as-graphic-novel is exquisitely packaged with appendices and a foreword from Anders Nilsen himself.
About the Author
---
Anders Nilsen is an award-winning cartoonist and visual artist. He is the author of several books, including "Don't Go Where I Can't Follow" and the magnum opus" Big Questions," for which he was awarded the 2012 Lynd Ward Graphic Novel Prize by the Pennsylvania Center for the Book and the Ignatz Award, and was nominated for the top prize at the Angouleme International Comics Festival. Nilsen's works have been translated into a number of languages, and he has exhibited his drawing and painting internationally. He lives and works in Minneapolis."
Praise For…
---
"Rapturous, meticulous pen-and-ink pointillism . . . Sprawling, uncanny work." —The New York Times
"[Big Questions] is filled with verdant deep-space landscapes--rendered in a lush stipple and hatching inking technique--and with sparely rendered characters that misapply mystical significance to their circumstances." —Publishers Weekly