Amphibian Acrobats (Hardcover)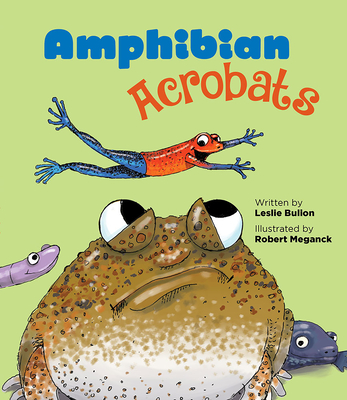 $15.99
Available to order - Usually arrives at our store in 1-5 days
Description
---
Step right up and learn all about the lively participants in the Amphibian Acrobat show-- from the agile Wallace's flying frog to the bouncing Venezuelan pebble toad to the tricky salamander called the yellow-eyed ensatina.
These show-stopping creatures hail from around the world and your own backyard They shape-shift and sky dive, balance and climb. You'll marvel at the astounding agility of "The Olympic Jumpers" and you'll be awed by the incredible stamina of the intrepid "Marathoners." Plus, you may be surprised by the antics of the amphibians called caecilians. Come along and get to know all about these lively denizens with this entertaining collection of science verses.
Author Leslie Bulion includes a science glossary, notes on poetry forms, and resources for information about these extraordinary animals. Witty drawings by Robert Meganck add another layer of fun to this humorous and informative exhibition starring some of the world's most remarkable frogs, salamanders, and caecilians.