Lego(r) with Dad: Creatively Awesome Brick Projects for Parents and Kids to Build Together (Paperback)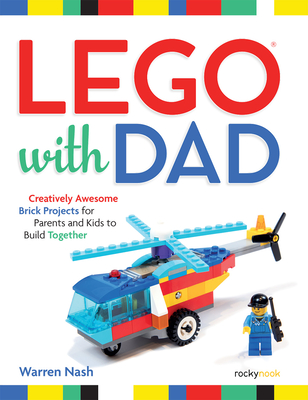 Description
---
★★★★★ A fabulous resource for anyone--not just dads--who love LEGOs, the little people in their life, and time together inventing and being creative.
★★★★★ Great how-to for grown-ups AND their kids
Break out the bricks, it's time for awesome family fun LEGO(R) bricks can be an endless source of imagination and joy for kids of all ages, and now dads can join in too LEGO(R) With Dad is the ultimate guide to utilizing your bricks to build creative new projects as well as lifelong memories along the way.
No expensive new sets required With detailed instructions on the basic building techniques as well as more advanced and complex builds, this book is perfect for parents and kids all skill levels.
LEGO(R) With Dad features step-by-step lessons for fun projects including:
Working train and car
Customized rocket ship
Menagerie of colorful animals
Helicopter with rotating blades
And much, much more
Whether you and your kids are LEGO(R) novices or aspiring Master Builders, this book will show you how to explore the world of bricks together to create amazing projects and lasting memories.
TABLE OF CONTENTS
Chapter 1: Essential Materials
Chapter 2: LEGO how-to's
Chapter 3: Classic Creations
Chapter 4: Fun for Everyone
Chapter 5: For the Adventurous
Chapter 6: LEGO in Motion
sp;
About the Author
---
Warren Nash started out as a YouTuber, creating content on DIY and food. Since the launch of his channel, Warren has achieved over 10 million views with a huge following across the globe. He has also presented on the BBC and worked with brands such as Tefal, Audi, and top UK supermarket brands. Now a father, Warren has also seen success with a series of content based around fatherhood and activities you can do with your kids. Specifically, arts and crafts, and of course, Lego! Warren has been passionate about Lego all his life and has played with it from a young age. With so many possibilities, it is something that has grown with him that has constantly kept his imagination alive and his creativity going. Now with a son who is showing an interest in everything, Warren is keen to show parents fun ways to strengthen the bond between adults and their children with something that played such a big role in his life growing up--Lego. This multi award-winning UK-based presenter has a huge range of Lego builds that are perfect for people of all ages to build together. All here to share in this book. If you want to build family bonds and create memories for years to come, then what are you waiting for? Let's get everyone's imaginations going and enjoy some creative problem solving together!