The Twyford Code: A Novel (Paperback)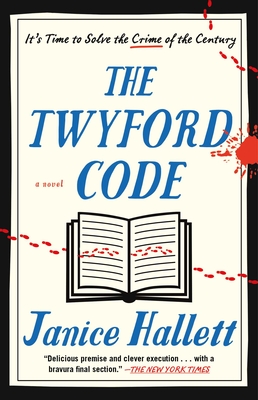 $17.99

Available - On our shelves now
Description
---
The mysterious connection between a teacher's disappearance and an unsolved code in a children's book is explored in this new novel from the "modern Agatha Christie" (The Sunday Times, London) and author of The Appeal.

Forty years ago, Steven "Smithy" Smith found a copy of a famous children's book by disgraced author Edith Twyford, its margins full of strange markings and annotations. When he showed it to his remedial English teacher Miss Iles, she believed that it was part of a secret code that ran through all of Twyford's novels. And when she later disappeared on a class field trip, Smithy becomes convinced that she had been right.

Now, out of prison after a long stretch, Smithy decides to investigate the mystery that has haunted him for decades. In a series of voice recordings on an old iPhone, Smithy alternates between visiting the people of his childhood and looking back on the events that later landed him in prison. But it soon becomes clear that Edith Twyford wasn't just a writer of forgotten children's stories. The Twyford Code holds a great secret, and Smithy may just have the key.

"Filled with numerous clues, acrostics, and red herrings, this thrilling scavenger hunt for the truth is delightfully deceptive and thoroughly immersive" (Publishers Weekly, starred review).
About the Author
---
Janice Hallett is a former magazine editor, award-winning journalist, and government communications writer. She wrote articles and speeches for, among others, the Cabinet Office, Home Office, and Department for International Development. Her enthusiasm for travel has taken her around the world several times, from Madagascar to the Galapagos, Guatemala to Zimbabwe, Japan, Russia, and South Korea. A playwright and screenwriter, she penned the feminist Shakespearean stage comedy NetherBard and cowrote the feature film Retreat. She lives in London and is the author of The Mysterious Case of the Alperton Angels, The Appeal, The Christmas Appeal, and The Twyford Code.
Praise For…
---
"The Twyford Code is a page-turning mystery that's built for puzzle pundits and literary word nerds. It's also a story about literacy and class, with a hugely endearing ex-con at the center of it all. Clever and refreshing, this book proves yet again that Janice Hallett has a knack for redefining how a mystery is told." —Nita Prose, #1 New York Times bestselling author of The Maid

"Extraordinarily clever, relentlessly fascinating, and sometimes laugh-out-loud funny—but, somehow, this unique mystery has tenderness, heartbreak, philosophy and universality on every page. The Twyford Code is immersive, and inventive, and even interactive. Janice Hallett has combined her brilliant imagination with a groundbreaking storytelling structure, and the result is an unparalleled reading experience. There are not sufficient words to tell you how much I love this book. Standing ovation to an instant classic!" —Hank Phillippi Ryan, USA Today bestselling author of Her Perfect Life

"Brilliantly imagined and stunningly original, The Twyford Code is a nesting doll of mysteries and puzzles, each as alluring as the last. Culminating in a grand finale of twists and surprises, this book is one that even Agatha Christie would not be able to predict." —Megan Collins, author of The Family Plot

"The Twyford Code is a tour de force. Both a character study and an engaging mystery, Hallett has crafted a Rubik's cube of a plot which had me reaching for my own pen and paper to try to decipher it. If you love acrostics, anagrams, or have every wondered what it might have been like to work with Bletchley Park's code-breakers, this book is for you. A sure-fire hit and a cracking good read." —Catherine McKenzie, USA Today bestselling author of I'll Never Tell and Please Join Us

"Every page is a joy, with laugh-out-loud moments even as the plot becomes more outlandish, and the startling final reveal crowns Hallett as the queen of unreliable narrators."
—Sunday Times

"The Twyford Code is a tour de force. . . . a mind-bending, heartwarming mystery that is not to be missed."
—The Observer (UK)

"Fiendishly clever… manages to be both tricksy and surprisingly moving."
—The Guardian

"[A] wonderful novel, which may start like James Joyce rewriting Agatha Christie with anagrams and acrostics, but ends up being a moving, multistory mystery about the power of books and paternal/parental love."
—The Times

"The Twyford Code is a page-turning mystery that's built for puzzle pundits and literary word nerds. It's also a story about literacy and class, with a hugely endearing ex-con at the center of it all. Clever and refreshing, this book proves yet again that Janice Hallett has a knack for redefining how a mystery is told." —Nita Prose, #1 New York Times bestselling author of The Maid

"Extraordinarily clever, relentlessly fascinating, and sometimes laugh-out-loud funny—but, somehow, this unique mystery has tenderness, heartbreak, philosophy and universality on every page. The Twyford Code is immersive, and inventive, and even interactive. Janice Hallett has combined her brilliant imagination with a groundbreaking storytelling structure, and the result is an unparalleled reading experience. There are not sufficient words to tell you how much I love this book. Standing ovation to an instant classic!" —Hank Phillippi Ryan, USA Today bestselling author of Her Perfect Life

"Brilliantly imagined and stunningly original, The Twyford Code is a nesting doll of mysteries and puzzles, each as alluring as the last. Culminating in a grand finale of twists and surprises, this book is one that even Agatha Christie would not be able to predict." —Megan Collins, author of The Family Plot

"The Twyford Code is a tour de force. Both a character study and an engaging mystery, Hallett has crafted a Rubik's cube of a plot which had me reaching for my own pen and paper to try to decipher it. If you love acrostics, anagrams, or have every wondered what it might have been like to work with Bletchley Park's code-breakers, this book is for you. A sure-fire hit and a cracking good read." —Catherine McKenzie, USA Today bestselling author of I'll Never Tell and Please Join Us

"Every page is a joy, with laugh-out-loud moments even as the plot becomes more outlandish, and the startling final reveal crowns Hallett as the queen of unreliable narrators."
—Sunday Times

"The Twyford Code is a tour de force. . . . a mind-bending, heartwarming mystery that is not to be missed."
—The Observer (UK)

"Fiendishly clever… manages to be both tricksy and surprisingly moving."
—The Guardian

"[A] wonderful novel, which may start like James Joyce rewriting Agatha Christie with anagrams and acrostics, but ends up being a moving, multistory mystery about the power of books and paternal/parental love."
—The Times

"Clever and inventive."—Washington Post

"[I]ngenious… Filled with numerous clues, acrostics, and red herrings, this thrilling scavenger hunt for the truth is delightfully deceptive and thoroughly immersive." —Publishers Weekly (starred review)