Philip Glass Piano Etudes: The Complete Folios 1-20 & Essays from 20 Fellow Artists (Hardcover)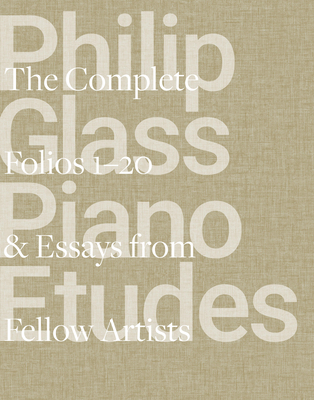 $150.00

Available - On our shelves now
Description
---
A monumental gift for music lovers: a deluxe boxed set of Philip Glass's most personal body of work, along with Studies in Time, a book of essays from notable fellow artists
Philip Glass is one of the most influential artists of our time. In his long and staggeringly creative career as a composer, he's transformed how we listen to music. He's written more than 30 operas, 14 symphonies, 13 concertos, and 35 film scores. But his most personal work is a series of 20 piano etudes, originally created to "address the deficiencies in my own playing," in Glass's words. The etudes have taken on a life of their own as a modern masterpiece. Majestic and intimate at the same time, these compositions for solo piano have been performed and recorded by dozens of artists and streamed over 100 million times.
Philip Glass Piano Etudes is in every way a one-of-a-kind tribute to this singular work. This deluxe boxed gift set includes the complete etudes (1–20), which have each been newly engraved, printed on oversize heavy stock, and sewn-bound into individual folios ideal for both beginner and experienced pianists; plus a hardcover book, Studies in Time, which explores Philip Glass's music, the art of composition, and the meaning of practice through essays by Alice Waters, Angélique Kidjo, Ari Shapiro, Ira Glass, Justin Peck, Laurie Anderson, Martin Scorsese, Pico Iyer, and more.

In its heirloom box, Philip Glass Piano Etudes is to be cherished by music lovers, piano students and players, and anyone attuned to contemporary culture, savored for its beauty and insights, and, of course, explored at the keyboard.
About the Author
---
Philip Glass is the first composer to win a wide, multigenerational audience in the opera house, the concert hall, the dance world, film, and popular music simultaneously. Through his operas, his symphonies, his compositions for his own ensemble, and his collaborations with artists ranging from Twyla Tharp to Allen Ginsberg, Leonard Cohen to David Bowie, Glass has had an extraordinary and unprecedented impact on the musical and intellectual life of his times. Born in Baltimore, Glass is a graduate of the University of Chicago and the Juilliard School. By 1974, he had created a large collection of music for the Philip Glass Ensemble. The period culminated in the landmark opera Einstein on the Beach. Since Einstein, Glass's repertoire has grown to include music for opera, dance, theater, orchestra, and film. His scores have received Academy Award nominations (Kundun, The Hours, Notes on a Scandal) and a Golden Globe (The Truman Show). Glass received the Praemium Imperiale in 2012 and the US National Medal of Arts from President Barack Obama in 2016, and was a Kennedy Center honoree in 2018.
 
Linda Brumbach and Alisa E. Regas are independent creative producers based in New York City working across mediums of performance, visual art, and film. In 1998, they founded their company, Pomegranate Arts. Realizing an artist's vision is the center of their practice, and they support ambitious, provocative work that often falls outside traditional genres and structures. Pomegranate Arts has produced the award-winning productions of Philip Glass and Robert Wilson's Einstein on the Beach, Lucinda Childs's Dance and Available Light, Taylor Mac's A 24-Decade History of Popular Music for stage and film, Robin Frohardt's The Plastic Bag Store, Laurie Anderson and the Kronos Quartet's Landfall, and many more. Brumbach and Regas's long association with Philip Glass has been one of their closest partnerships. Including the piano etudes, they have produced and toured over one thousand Philip Glass performances in fifty countries. This is their first publication.