The Easy Puerto Rican Cookbook: 100 Classic Recipes Made Simple (Paperback)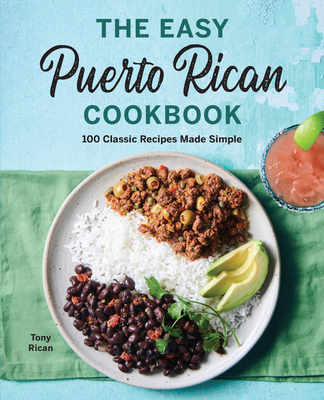 $15.99

Available to order - Usually arrives at our store in 1-5 days
Description
---
Master the melting pot of Puerto Rican cooking with 100 classic recipes
Puerto Rican cooking is rich with diverse flavors and textures that come together to create a unique culinary experience you could only find on the Island of Enchantment—until now.
The Easy Puerto Rican Cookbook
is packed with 100 classic recipes made simple, so you can create mouthwatering meals in your own kitchen with ease.
Discover dozens of weeknight-friendly recipes, including a number of dishes that take 30 minutes or less to prepare and serve. Simplify your routine with recipes containing five ingredients or fewer, one-pot meals, slow-cooker dinners, and more. The authentic recipes in this Puerto Rican cookbook focus on whole foods, so you get all of the incredible flavors of traditional cuisine without the salt, fat, and processed ingredients.
The Easy Puerto Rican Cookbook
includes:
100 delectable recipes—Get a true taste of the island with delicious recipes for every meal, from cocktails and small plates to entrees, desserts, and beyond.
Staples from scratch—Try 16 staple recipes like Chicharrón de Cerdo (Fried Pork Belly), Mojo Criollo (Garlic Marinade), and Pique (Puerto Rican Hot Sauce).
Your Puerto Rican pantry—This beautifully designed Puerto Rican cookbook offers a guide to stocking your kitchen with essentials like annatto seeds, guava paste, and more.
If you've been searching for a Puerto Rican cookbook that simplifies traditional recipes without sacrificing flavor, look no further—
The Easy Puerto Rican Cookbook
has everything you need.
About the Author
---
TONY RICAN is a former professional wrestler who's successfully transitioned to a culinary career. He teaches people how to prepare bold yet basic dishes via his YouTube channel, The Average Guy Gourmet. Tony is also the author of the best-selling The Easy Puerto Rican Cookbook.
Praise For…
---
"In this cookbook, you will find traditional Puerto Rican standards that can be executed for daily family meals or elaborate party favorites. Tony lays the book out in an easy to understand format, separating the recipes by ingredients and difficulty. This is a great book for your own personal use or as a gift. As a restaurant owner executing a variety of recipes on a daily basis, this is an easy to use, fun book to sample some traditional Puerto Rican recipes. I highly recommend it." —Harlan Logan, owner of South Moon BBQ