Learn to Read for Kids with Dyslexia: 101 Games and Activities to Teach Your Child to Read (Paperback)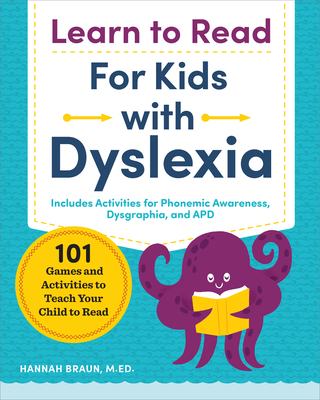 $19.99

Available to order - Usually arrives at our store in 1-5 days
Description
---
Rhyming, racing, blending, tracing—fun exercises to help kids (7-12) with dyslexia strengthen their reading skills
Learning to read with dyslexia can be a challenge for kids, but it's a challenge they can conquer—with the right tools. Using a targeted approach to skill development,
Learn to Read for Kids with Dyslexia
features more than 100 colorful games and activities that strengthen auditory processing skills, support letter formation in writing, and, most importantly, make reading fun!
This workbook filled with dyslexia tools for kids offers:
Daily practice―This standout among dyslexia books gives kids opportunities to practice their reading skills with exercises focused on phonemic awareness, dysgraphia, and auditory processing disorder.
Playful activities―Kids will delight in exploring everything from phonics games to mazes, word association, matching, coloring, listening, and more.
6 Different learning methods―Get a dyslexic reading aid for kids that's built on multiple research-based approaches to learning, giving kids a chance to see what works best for them.
Turn kids into lifelong readers, and help them along the road to overcoming dyslexia with fun-filled games that build their skills and confidence.
About the Author
---
HANNAH BRAUN writes curriculum for teachers and parents of elementary-aged children. She spent eight years as a classroom teacher and has two children of her own. Hannah loves to bring about "aha" moments for kids by breaking down tricky concepts into digestible parts. Hannah is the author of the blog The Classroom Key (TheClassroomKey.com), where she shares ideas and information about best practices in teaching.
Praise For…
---
"What a clever collection of activities! As a long-time 4th & 5th grade classroom teacher in a Title 1 school, this appeals to me so much for my struggling students. Awareness is power, and even without a formal diagnosis I can think of so many thirsty students that would drink up this opportunity to work with an adult on these fun exercises!"—Frances Anne Reinosa, BCLAD-Credentialed Teacher, San Luis Obispo, CA

"As a teacher in the regular education classroom as well as the special education classroom, I find myself trying to reach each student in a way that will speak to them. It's challenging and time-consuming to create something new and different for everyone, but this book does that. This book has it all—from multi-sensory handwriting cues that support letter formation, to audition activities that boost phonemic awareness, and various games that support students as they master the phonological awareness skills necessary to become proficient readers. It's a wonderful toolbox for a teacher to have in the classroom."—Adriann Crowe M.A.S Ed, Kindergarten Teacher, New Bern, NC

"Students with special needs can be overwhelmed by the amount of information and graphics on a page. This book features activities that are spot on for students: interesting and engaging yet not overwhelming. The fun instruction symbols, combined with words will also give students the independence to read and remember what they are supposed to do on each page. What a great resource!"—Christen Stanley, Special Education Teacher, North Little Rock, AR