The Moves That Matter: A Chess Grandmaster on the Game of Life (Hardcover)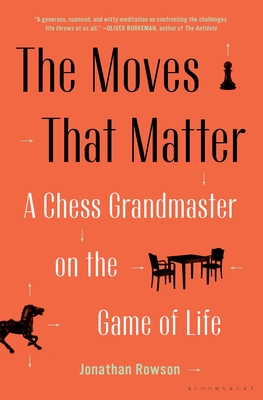 $27.00
Available to order - Usually arrives at our store in 1-5 days
Description
---
A chess grandmaster reveals the powerful teachings this ancient game offers for staying present, thriving in a complex world, and crafting a fulfilling life.

Refined and perfected through 1,500 years of human history, chess has long been a touchstone for shrewd tacticians and master strategists. But the game is much more than just warfare in miniature. Chess is also an ever-shifting puzzle to be solved, a narrative to be written, and a task that demands players create their own motivation from moment to moment. In other words, as Grandmaster Jonathan Rowson argues in this kaleidoscopic and inspiring book, there are ways to see all of life reflected in those 64 black and white squares.

Taking us inside the psychologically charged world of chess's global elite, Rowson mines the game for its insights into sustaining focus, quieting our inner saboteur, making tough decisions, overcoming failure, and more. He peels back the beguiling logic of chess to reveal the timeless wisdom underneath. This exhilarating tour ranges from learning how to love our mistakes to considering why people are like trees; from the mysteries of parenting to the beauty of technical details, to the endgame of death. Throughout, chess emerges as a powerful and accessible metaphor for the thrills and setbacks that fill our daily lives with meaning and beauty.
About the Author
---
Jonathan Rowson is a writer, philosopher, and chess Grandmaster who has competed internationally with world-class players and was three-time British Chess Champion from 2004 through 2006. He holds a first class degree from Oxford University in Politics, Philosophy, and Economics; a Masters degree from Harvard University in Mind, Brain, and Education; and a PhD from the University of Bristol, where his thesis examined the process of becoming wiser. In 2016, after serving for six years as Director of the Social Brain Centre at the Royal Society of the Arts, he became co-founder and Director of Perspectiva, a research institute that examines the relationship between complex global challenges and the inner lives of human beings. He is also a Research Fellow at the Centre for the Understanding of Sustainable Prosperity at the University of Surrey, and was a 2018 Open Society Fellow. His writing has appeared in the Guardian, New Statesman, and Prospect, and he is the author of three technical books on chess. Rowson lives in London with his wife, Siva, and their sons, Kailash and Vishnu.
Praise For…
---
"Rowson draws on an incredibly deep well of knowledge . . . Rowson's charming work will provide a pleasing structure for any reader looking for self-help advice, and will particularly appeal to chess players." —Publishers Weekly

"[Rowson's] advice ranges from trenchant to amusing . . . Along the way, Rowson deals with politics, religion, mistakes, artificial intelligence, and the traits that champions possess, among many other weighty matters. Perhaps the most affecting-and modest-moments are when he writes about accepting your status and about decline and death." —Kirkus Reviews

"Jonathan Rowson is one of the best and cleverest chess writers." - Chess History

"At a time when we urgently need new ways to think about the challenge of creating a meaningful life--far more than we need conventional self-help advice--Jonathan Rowson has written a powerfully unconventional and mind-expanding book. This work is a fascinating insight into the inner world of the chess Grandmaster, a place I'd otherwise barely have been able to imagine; but it is also a generous, nuanced and witty meditation on confronting the challenges life throws at us all." —Oliver Burkeman, author of THE ANTIDOTE

"What a beautiful, thoughtful work. I see thinking in a fresh light. I see my own life in a fresh light as well." —David Bodanis, author of E=MC2 and EINSTEIN'S GREATEST MISTAKE

"[Jonathan Rowson] playfully connects his chess experience to broader philosophical themes. If you are a chess player who wonders what exactly makes the game so enchanting, this is the book for you. And if you are one of the millions of people who don't play chess but nonetheless feel drawn to the game, I can't think of a better introduction." —Viswanathan Anand, World Chess Champion 2000-2002 and 2007-2013

"You do not need to play chess to love this book. Jonathan Rowson has a delightful knack for translating complex logical argument into utterly compelling reflections …In short chapters that build persuasively and addictively, Rowson shows us that chess is not so much a guide to life as resonant metaphor for how we live it." —Marina Benjamin, author of INSOMNIA

"A remarkable, highly original, and personal book, unlike anything else you have ever read, packed with wisdom about life. You need to know next to nothing about chess to enjoy it and to want to keep coming back for more." —Iain McGilchrist, author of THE MASTER AND HIS EMISSARY

"The book is a lovingly written, magnificent masterpiece. Anyone reading it will be richly rewarded in ways they may not even understand at the time of reading. This is most definitely not a book one reads and forgets. It is a book to savor … The Moves That Matter is a book about oh so much more than Chess … The book is about life, and thinking about life." - Armchair Warrior