Survival Lessons (CD-Audio)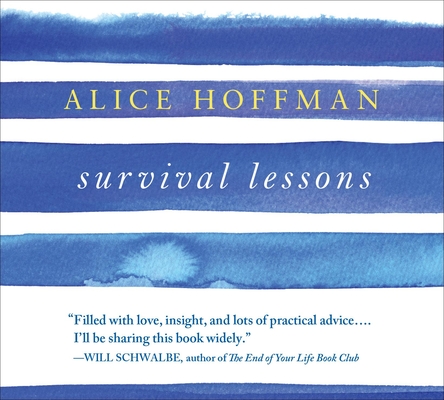 $15.95
Available - usually arrives in 1-5 days
Staff Reviews
---
This small book packs big wisdom on how to see the beauty in life despite the challenges. An inspirational book, suitable for aunties, mothers, grandmas, daughters, uncles, fathers, grandpas, sons….wide range. But better leave the kiddos out on this one; too boring.
— Janis
October 2013 Indie Next List
---
"Survival Lessons is a wise and beautiful book in which Hoffman shares openly and honestly about coping with illness. But don't wait for the difficult moments in life before reading this book! It's full of wonderful advice for anyone who wishes to live life fully. I plan on giving this to all of my friends this holiday season."
— Adrian Newell, Warwick's, La Jolla, CA
Description
---
Fifteen years ago, Alice Hoffman received a diagnosis that changed everything about the life she'd been living. Most significant—aside from the grueling physical ordeal she underwent—was the way it changed how she felt inside and what she thought she ought to be doing with her days. Now she has written the book that she needed to read then.

In this honest, wise, and upbeat guide, Alice Hoffman provides a road map for the making of one's life into the very best it can be. As she says, "In many ways I wrote this book to remind myself of the beauty of life, something that's all too easy to overlook during the crisis of illness or loss. There were many times when I forgot about roses and starry nights. I forgot that our lives are made up of equal parts sorrow and joy, and that it's impossible to have one without the other. . . . I wrote to remind myself that in the darkest hour the roses still bloom, the stars still come out at night. And to remind myself that, despite everything that was happening to me, there were still some choices I could make."
About the Author
---
XE SANDS is a published audiobook narrator with more than a decade of experience bringing stories to life through narration and performance. From poignant young adult fiction to powerful first-person narrative, Sands' characterizations are rich and expressive and her narrations evocative and intimate.
Normal.dotm00182468Algonquin3157412.00false18 pt18 pt00falsefalsefalse
Alice Hoffman has published twenty-one novels, three books of short fiction, and eight books for children and young adults. Her books have been published in more than twenty translations and more than one hundred foreign editions. Her novels, many of which have been New York Tiimes bestsellers, have received mention as notable books of the year by the New York Times, Entertainment Weekly, the Los Angeles Times, Library Journal, and People magazine. Alice's advance from Survival Lessons will be donated to the Hoffman Breast Center at Mount Auburn Hospital in Cambridge, Massachusetts.
Praise For…
---
"Hoffman's storytelling artistry enlivens each intimate, thoughtfully distilled, charming, and nurturing lesson in living."
—Booklist
"Tender, reflective, and approachable, Sands sounds like she's speaking with a close friend or relative. For Hoffman's most personal work, Sands's personable tone complements the message of compassion."
—AudioFile
"The audio is only an hour long—but its message has stuck with me ever since I finished it. . . . [Xe Sands] does a fantastic job—she is quickly becoming one of my favorite narrators."
—BermudaOnion's Weblog