So Say the Fallen (The Belfast Novels #6) (Paperback)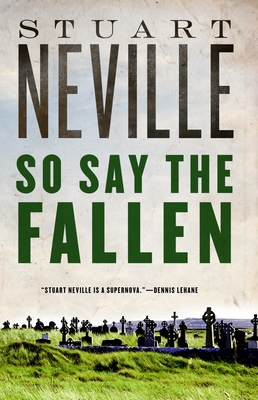 $15.95
Email or call for price
Other Books in Series
This is book number 6 in the The Belfast Novels series.
Description
---
A Boston Globe Best Book of the Year

Belfast, Northern Ireland: A man left horrifically maimed by a car accident appears to have taken his own life. It should be an open-and-shut case, but something doesn't feel right to DCI Serena Flanagan. Flanagan ignores advice to close the case, call it a suicide, and be done with it. As she picks at the threads of the dead man's life, a disturbing picture emerges, and she realizes the man's widow, Roberta Garrick, is not what she seems . . .
About the Author
---
Stuart Neville, the "king of Belfast noir" (The Guardian), is the author of nine novels, for which he has won the  Los Angeles Times Book Prize and been shortlisted for the Edgar, Macavity, Dilys, Barry, and Anthony Awards as well as the CWA Steel Dagger. He lives near Belfast.
Praise For…
---
Praise for So Say the Fallen

A Boston Globe Best Book of 2016

"If you haven't read him yet, now's the time to start."
—The Boston Globe

"[A] brilliantly narrated police procedurals."
—Toronto Star

"Masterfully captures a sense of the deep evil that humans can summon."
—The Seattle Times

"One of crime fiction's newest and most complex heroines to come around in years."
—The Strand Magazine

"[A] twisty, heartbreaking read."
—The Cleveland Plain Dealer

"Neville is skilled and pulls the reader in with this relentless dramatic tale.  It's a cleverly plotted cat and mouse game."
—WBAI Radio, NYC

"Cements his reputation as one of Ireland's brightest and best young crime writers."
—The Aptos Times

"[A] complex protagonist whose conflicting impulses provide the energy for a compelling novel of suspense and makes the reader wonder what exactly separates our driven heroine from the calculating killer she's hunting."
—Reviewing the Evidence

"While executing a taut, heart-stopping police procedural, Neville is equally skilled at imbuing the darkest corners of our minds with a bleak beauty of their own, uncovering humanity in the most inhumane of baddies."
—Seattle Review of Books

"What's there to say besides, Stuart Neville is a fantastic author."
—Suspense Magazine

"It's easy to see why Neville's work has been shortlisted for various literary awards on multiple occasions." 
—Bookreporter.com

"Totally captivating."
—Fresh Fiction

"[A] complex and compassionate study of the human condition."
—Publishers Weekly, Starred Review

"Belfast has been a significant presence in Neville's mysteries, but this compelling procedural is a more universal tale in which unchecked evil flourishes. Flanagan, a breastcancer survivor undergoing counseling, is a fallible protagonist whose appeal grows with each book; don't miss her here. "
—Booklist, Starred Review

"A taut psychological thriller . . . Superb."
—Gumshoe Review

"[Neville's] crime novels, here and in the future, as a way of examining the important question of what makes our lives (and deaths) not only human, but worth the effort."
—Kingdom Books, Vermont

"One of the best crime novels I read this year. "
—Boomerang Books (Australia)

"Totally captivating."
—Fresh Fiction

Praise for Stuart Neville

"Neville's books are dark but elegantly written case studies of the roots of violence, and here he writes thoughtfully, about children who come from the streets, go through the foster programs and prison systems, and are either reborn or dragged back into the sorrows that are their inheritance."
—The New York Times Book Review

"Neville has been masterfully capturing the mean streets of Belfast in a series of thrillers, each arguably more powerful than the last. His latest, Those We Left Behind, in which he ups his game by about 10 notches, is a robust police procedural."
—The Boston Globe

"In the world of modern crime fiction, Stuart Neville is a supernova. I buy his books the day they're released because I can't wait to see where he takes me next. And I'm never disappointed."
—Dennis Lehane, author of World Gone By

"A great, brawling ache of a novel . . . Serena Flanagan [is] the bruised and compassionate hero for whom we've all been waiting."
—Megan Abbott, author of The Fever

"Primo noir."
—The Austin Chronicle

"Not only one of the finest thriller debuts of the last ten years, but also one of the best Irish novels, in any genre, of recent times."
—John Connolly

"Stuart Neville is Ireland's answer to Henning Mankell."
—Ken Bruen

"The best first novel I've read in years . . . It's a flat-out terror trip."
—James Ellroy