The Shortest History of China: From the Ancient Dynasties to a Modern Superpower—A Retelling for Our Times (Shortest History Series) (Paperback)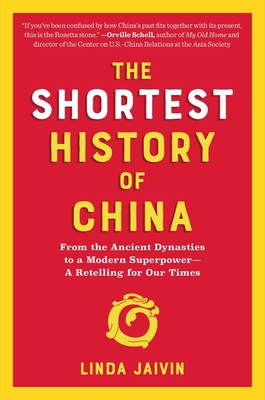 $16.95

Available to order - Usually arrives at our store in 1-5 days
Description
---
Journey across epic China—through millennia of early innovation to modern dominance. The Shortest History books deliver thousands of years of history in one riveting, fast-paced read.

As we enter the "Asian century," China demands our attention for being an economic powerhouse, a beacon of rapid modernization, and an assertive geopolitical player. To understand the nation behind the headlines, we must take in its vibrant, tumultuous past—a story of "larger-than-life characters, philosophical arguments and political intrigues, military conflicts and social upheavals, artistic invention and technological innovation."

The Shortest History of China charts a path from China's tribal origins through its storied imperial era and up to the modern Communist Party under Xi Jinping—including the rarely told story of women in China and the specters of corruption and disunity that continue to haunt the People's Republic today. A master storyteller and exacting historian, Linda Jaivin distills this vast history into a short, riveting account that today's globally minded readers will find indispensable.
About the Author
---
Linda Jaivin is an American-born, internationally published Australian essayist, novelist, translator, and specialist writer on China. Her books include The Monkey and the Dragon, the city profile Beijing, and several China-based novels. Her essays have appeared in a wide range of publications in Australia and beyond. She has previously lived, studied, and worked in Taiwan, Hong Kong, and Beijing.
Praise For…
---
World 50 Book Club Pick

"A succinct yet dynamic narrative chronicling China from prehistory to the present, adeptly weaving together political, social, and cultural events from each period. . . . A delightful, informative, thought-provoking read."—Choice

"Absorbing, wonderful . . . one of the best histories of China."—Richard Bernstein, author of China 1945

"The perfect diving-in point for someone new to Chinese history. . . . If this is all you read, you can consider yourself well informed and better prepared to make sense of the world that China is remaking."—James Carter, author of Champions Day: The End of Old Shanghai 

"The book is a gem. It's minimalist but immersive. A master storyteller, Jaivin cleverly segues from ancient to contemporary, back and forth, always injecting novel insights and nuances while cleverly stitching together China's meandering past. That's a feat."—Jaime FlorCruz, former CNN Beijing Bureau Chief

"So many people, so much history, so much culture. . . . China's a challenge—but like a jade snuff bottle, this book holds it all in one finely chiseled vessel."—Jasper Becker, author of Hungry Ghosts: Mao's Secret Famine

"Linda Jaivin has assembled together many of the pieces of China's millennia of history into a single, artful stained glass window. If you've been confused by how China's past fits together with its present and Xi Jinping's 'wolf warrior diplomacy,' this is the Rosetta stone."—Orville Schell, author of My Old Home and Director of the Center on US–China Relations at the Asia Society

"Virtuosic, and virtuosically succinct...a fascinating, enormously dynamic portrait of a superpower. Essential reading."—Julia Lovell, professor of modern China, Birkbeck, University of London

Praise for the Australian Edition

"Linda Jaivin manages to cram in so much of the gigantic tapestry that is China's story but does it so concisely, with such flair, that this book is a joy to read."—Daily Telegraph

"The perfect introduction . . . Jaivin has a terrific eye for telling details and effortlessly turns a highly complex, sprawling story into a thoroughly informing and entertaining read."—Sydney Morning Herald

"A tour de force and a really marvelous read. . . . [Jaivin] makes the case that understanding history and patterns that recur throughout history is crucial for understanding modern China. . . . She also writes powerful vignettes about women in China, stories that often don't get told in conventional histories."—Bec Strating, ABC Saturday Extra's "The Pick"

"A fast-paced and witty survey of China's past, written with spirit and verve. Jaivin knows her stuff but wears her erudition lightly. Iconoclastic, informative, and more attentive to female figures than many comparable works. Highly recommended."—Jeffrey Wasserstrom, author of Vigil: Hong Kong on the Brink
 
"An electrifying and erudite ride through Chinese history—Linda Jaivin has written an illuminating history book that is also a real page-turner."—Alice Pung, author of Unpolished Gem and Her Father's Daughter

"War, revolution, rise and fall, emperors, tyrants: China is more than a nation and bigger than a myth. It demands a great storyteller, and in Linda Jaivin, it has one."—Stan Grant, author, journalist, and international affairs analyst for the Australian Broadcasting Commission
 
"It's no mean feat to cover the entire history of China in fifteen chapters, but Linda Jaivin manages it with panache. Succinct, lucid, and with a keen eye for detail, this slim book is an indispensable primer on China."—Louisa Lim, author of The People's Republic of Amnesia and cohost of The Little Red Podcast

"Read this in a fever-fueled blitz, look up and I promise you that China—and indeed, the world—will make more sense."—Benjamin Law, Australian author, journalist, and broadcaster

"Underwrite an overview of a complicated topic with one of these new short-and-sweet distillations. . . with maps, charts, sidebars, and illustrations to bring it alive."—Mosaic, Morgan Stanley