Start with a Scribble: Quentin Blake's how-to-draw book for kids and adults (Hardcover)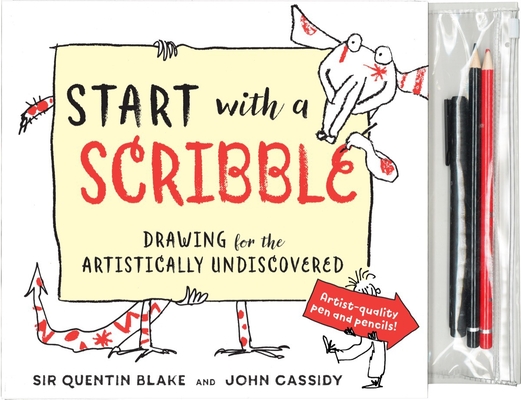 $19.95
Available to order - Usually arrives at our store in 1-5 days
Description
---
Just start with a scribble!
Start with a Scribble
will banish your inner critic and kick-start your inner genius, as you learn to draw with a little how-to and a
lot
of just-do.
An artist-quality pen and watercolor pencils (red and black) are included.
Inside, you'll find: 
Prompts to inspire you (e.g., "emotional rabbits") 
Doodles to finish ("Mrs. Thudkins takes her floppaterasis for a walk") 
Techniques to try (only when the mood strikes you), from shading to perspective 
And plenty of wide-open space to play around in. 
We're much less interested in the
appearance
of something than in the
something
itself. So, when you've settled on your subject (a monster? a cockatoo?), first figure out what its
essence
should be (ferocious? bashful?) . . . and then, just toss that ball up (artistically speaking) and give it a good swat across the net. Voilà! You're an artist. 
Throughout, beloved illustrator Sir Quentin Blake shares sage advice, from "it's best to name your animal after you draw it" to "don't worry too much yet about ankles." The most important lesson? Let go and give in to your own creative spirit! 
Publisher's note:
Start with a Scribble
is an updated North American edition of
Drawing for the Artistically Undiscovered
(Klutz, 1999).
About the Author
---
Sir Quentin Blake, CBE, is one of the most beloved illustrators in the world today. His distinctive drawings have graced more than two hundred books, including all of the children's classics written by Roald Dahl. He formerly headed the illustration department of the Royal College of Art. He is the recipient of many awards; in 1999, he was appointed Children's Laureate of Great Britain. He is better at drawing than he is at shaving. He lives in South Kensington, UK.

John Cassidy cofounded the children's book publishing company Klutz Press in 1978, and served as its creative head until 2000. He has written over 200 books and is a recipient of the Legacy for Children Award. He is the coauthor, with Thacher Hurd, of Paint This Book! Watercolor for the Artistically Undiscovered. He holds degrees in English and education from Stanford University, and currently lectures at Stanford's Hasso Plattner Institute of Design. He lives in Palo Alto, California.
Praise For…
---
Parents' Choice Gold Award Winner (1999)
National Parenting Publications Gold Award Winner (1999)

"Children's imaginations will soar with this sketchbook of inspirational artwork, gentle suggestions, practical advice, and lots of white space for the aspiring artist's use."—Parents' Choice

"What a marvelous book—funny, accessible and inspirational. . . . The 'artistically undiscovered' will thrill to hear the author's advocation of the Gung-Ho approach, his urge to express your 'you-ness' and capture the spirit of things on paper. From drawing spectacles and emotional rabbits to creating a 3-Headed Red-Spotted Gorff (whatever that is) and dealing with human anatomy, Blake's quirky guide will have you scribbling away in glee."—Kirkus UK

"There are lots of tricks artists know, and they're not hard to learn. You just need the right instructor . . . [Paint This Book! and Start with a Scribble] fit the bill perfectly . . . both are filled with fun, light illustrations . . . and although these books leave plenty of room for artistic imagination, for me their real value is the way they introduce the ideas of perspective, line quality, and other helpful tools for beginning artists."—Kathy Ceceri, WIRED.com