The Revised Fundamentals of Caregiving (CD-Audio)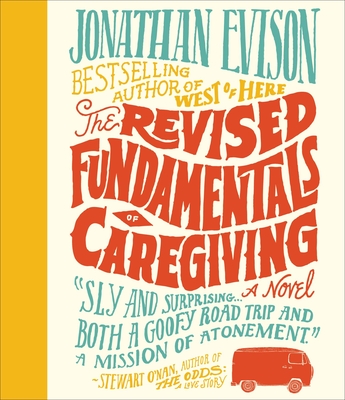 September 2012 Indie Next List
---
"What a heartfelt journey we travel in this capriciously tragic story of Benjamin Benjamin Jr., caregiver extraordinaire. His charge, Trev, is a 19-year-old suffering from Duchenne muscular dystrophy, or, as Ben describes him, 'a pretzel with a perfectly healthy imagination.' Ben is suffering too. He is trying to recover from a personal tragedy that has left him without a family or a job. To read this book is to be in a constant, conflicting state between tears and laughter."
— Lynn Riggs, Books & Company, Oconomowoc, WI
Description
---
Benjamin Benjamin has lost virtually everything—his wife, his family, his home, his livelihood. With few options, Ben enrolls in a night class called The Fundamentals of Caregiving taught in the basement of a local church. There Ben is instructed in the art of inserting catheters and avoiding liability, about professionalism, and how to keep physical and emotional distance between client and provider. But when Ben is assigned to nineteen-year-old Trev, who is in the advanced stages of Duchenne muscular dystrophy, he discovers that the endless mnemonics and service plan checklists have done little to prepare him for the reality of caring for a fiercely stubborn, sexually frustrated adolescent. As they embark on a wild road trip across the American West to visit Trev's ailing father, a new camaraderie replaces the traditional boundary between patient and caregiver.
 
 Bursting with energy, this big-hearted, soulful, and inspired novel ponders life's terrible surprises and the heart's uncanny capacity to mend and become whole again.
About the Author
---
Jonathan Evison is the author of four previous novels, including All About Lulu, West of Here, The Revised Fundamentals of Caregiving, and This Is Your Life, Harriet Chance! He lives with his wife and family in Washington State. 
JEFF WOODMAN originated the title role in Tennessee Williams' "The Notebook of Trigorin" and won the san Francisco Critics' circle Award for his performance in "an Ideal Husband" In addition to numerous Off-Broadway credits, his TV appearances include Law & Order, Sex and the City, and Cosby. His more than 200 audiobook narrations has earned him numerous awards, including a People magazine "Annual Top Five" citation and a spot in AudioFile magazine's "Top Fifty Voices of the Century".
Praise For…
---
"A lively narrative with a poignant core and quirky, lonely characters."
—Kirkus Reviews
"Evison injects some levity . . . blending humor, sharp dialog, and a rich and detailed back-story into a sympathetic, bittersweet novel. . . . A worthy purchase."
—Library Journal
"Woodman skillfully navigates between the humor and sadness of the story and neatly telegraphs Ben and Trev's complex feelings of resignation mixed with hope for something better. Listeners will be captivated by Woodman's performance of this wonderful novel about finding one's way in an unfair world."
—AudioFile [Earphones Award Winner]
"Even-keeled, big-hearted, and very funny, and full of hope. Through Ben, missteps are made, and human foibles are exposed. But we also glimpse that distant shore of hard-earned redemption. For that, Evison's novel is worth the voyage."
—The Boston Globe
"The Revised Fundamentals of Caregiving deals with sorrow and disability and all the things that can go wrong with life. But mostly Evison has given us a salty-sweet story about absorbing those hits and taking a risk to reach beyond them. What a great ride."
—The Seattle Times
"With prose as snappy as a bumper sticker, a pace like a wide-open interstate, and a heart as big as a van, . . . Jonathan Evison rides again."
—Fiction Writers Review
"Evison has the enviable ability to weave together a funny, tragic and very entertaining story."
—BookPage
"An inspiring tale on life's surprises and the heart's capacity to mend, filled with a perfect blend of humor and sadness."
—Express Milwaukee
"Moving and funny, and, my God, how refreshing it is to read a story about someone caring for a disabled person that isn't gauzed in sentimentality or bitterness. . . . Evison once worked as a personal care attendant himself, and this novel is dedicated to one of his clients. The experience seems to have taught him just what true caregiving is all about, and that insight along with his plaintive sense of humor had me alternately chuckling and wiping my eyes through much of his book."
—The Washington Post
"The Revised Fundamentals of Caregiving weaves back and forth in time, propelling toward Ben's uncertain future as well as reversing into his past. Evison is a steady driver, and both stories are equally compelling."
—The New York Times
"The audio production was fantastic. Jeff Woodman did a great job narrating. . . . His voice conveyed just the right amount of emotion and seriousness while easily shifting into comic adventure and excitement."
—Under My Apple Tree
"The book manages to be both an entertaining picaresque and a moving story of redemption."
—The New Yorker
"Narration that will keep listeners engaged until the very end."
—Publishers Weekly
"Woodman shines in his voicing of a dauntingly large and varied cast of characters . . . including a goth girl whose adolescent angst is perfectly nailed by Woodman. Both humorous
and poignant, this will please listeners familiar with Evison's fiction."
—Booklist