Solitude & Company: The Life of Gabriel García Márquez Told with Help from His Friends, Family, Fans, Arguers, Fellow Pranksters, Drunks, and a Few Respectable Souls (Hardcover)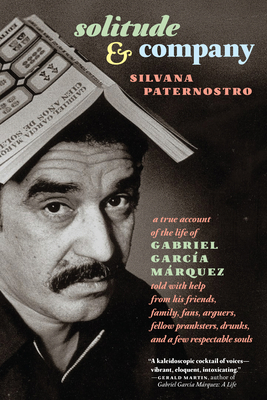 Staff Reviews
---
Whether you're a Gabito fan or not, you'll find this book to be a treasure. It is real-life storytelling at its finest. The book is a compilation of oral history told by those Gabito held dearest: fellow pranksters and drunks, family, friends, and fans. It is divided into two parts: BC (before Cien anos de soledad) and AC (after Cien anos de soledad). I found it utterly fascinating to glimpse behind the curtains into the life of this legendary literary giant, from his formative years through the years of fame.
— From
Janis
Description
---
Irreverent and hopeful, Solitude & Company recounts the life of a boy from the provinces who decided to become a writer. This is the story of how he did it, how little Gabito became Gabriel García Márquez, and of how Gabriel García Márquez survived his own self-creation.
About the Author
---
Prize-winning journalist SILVANA PATERNOSTRO grew up in Barranquilla, Colombia, home to García Márquez's fabled literary group, La Cueva. In 1999, she was selected by Time/CNN as one of "Fifty Latin American Leaders for the Millennium," and is the author of In the Land of God and Man, nominated for the PEN/Martha Albrand Award, and My Colombian War.  A frequent contributor to English and Spanish publications including the New York Times, the Paris Review, the New York Review of Books, Vogue, and El Malpensante and Gatopardo, she lives between New York City and Colombia.
 
Translator EDITH GROSSMAN is one of the most renowned Spanish-to-English translators of our time. In addition to translating seven of Gabriel García Márquez's novels, including Love in the Time of Cholera and Memories of My Melancholy Whores, she has translated works by Miguel de Cervantes, Mario Vargas Llosa, and Ariel Dorfman, to name a few. A member of the American Academy of Arts and Sciences, she is the recipient of a Guggenheim Fellowship, a PEN Ralph Manheim Medal, an Independent Foreign Fiction Prize, and many other awards and honors. She teaches at Columbia University in New York City.
Praise For…
---
"Charming and rowdy ... it's a book that gathers his old friends together, as if around a table, and lets them talk." —Dwight Garner, The New York Times

"Solitude & Company is outstanding as a work of journalism and a pleasure to read. This is as close as you'll ever get to spending a day with the master himself." —Juan Gabriel Vásquez, author of The Sound of Things Falling

"Solitude & Company captures Gabo—the man, the times and the places that created him. How a man from the Caribbean made a universe that the world embraced. Everyone who loves Gabriel García Márquez's work will enjoy this wonderful book." —Benicio Del Toro

"A disquieting portrait of the man who propelled Latin American writing into the global markets. Nobody is more judgmental or crueler than the friends we made before we came to be whatever we are, but at the same time nobody can be more generous and accurate. The perhaps savage honesty of the persons who knew good old Gabo before he reached the stratosphere with the publication of his landmark novel One Hundred Years of Solitude—many of them characters in the book—offers tools to understand the person of the author better than the hagiographic writing of academic biographers." —Alvaro Enrigue, BookPost

"If I may be allowed to mix up a metaphor: This is a kaleidoscopic cocktail of voices—vibrant, eloquent, intoxicating—inspired by that endlessly fascinating literary magician Gabriel García Márquez (a.k.a. Gabo/Gabito/etc.). And the cocktail has been mixed and shaken, expertly and knowingly, by Silvana Paternostro. ¡Salud!" —Gerald Martin, author of Gabriel García Márquez: A Life

"This magnificent research brings an unprecedented, different, and revealing perspective." —Huffington Post

"It would be difficult to imagine a writer and editor more qualified to assemble this oral history of García Márquez than Silvana Paternostro. Coming from the world and culture that spawned magical realism, she studied under and has continued to study the master of the genre; yet she has lived in America long enough to have a firm command of its cultural nuances, as well. Add to that her own gifts as an analyst and storyteller, and you have a volume that is both deeply insightful and a fitting testimonial—in short, an absolute gift." —Caleb Carr, author of The Alienist and The Lessons of Terror: A History of Warfare Against Civilians.

"Irresistibly readable and fun, it's a perfect accessory to the age of twitter. A world of storytelling in which nothing is false and everything is possible." —Melik Kaylan, Forbes

"It's a unique glimpse into the life of a man who has become as much a myth as the magical stories he penned, as only someone like Paternostro could have crafted over decades of dedication." —Santa Fe Reporter

"Solitude & Company is a human, fresh, and irreverent portrait of Gabriel García Márquez in which the voices of his friends, his loved ones, and even his detractors, who had never shared their stories, are interwoven." —Educacíon y Cultura AZ

"If I may be allowed to mix up a metaphor: This is a kaleidoscopic cocktail of voices—vibrant, eloquent, intoxicating—inspired by that endlessly fascinating literary magician Gabriel García Márquez (a.k.a. Gabo/Gabito/etc.). And the cocktail has been mixed and shaken, expertly and knowingly, by Silvana Paternostro. ¡Salud!"– Gerald Martin, author of Gabriel García Márquez: A Life

"Silvana Paternostro offers readers a chance to listen in on the whispers within the magic factory that gave birth to One Hundred Years of Solitude ... Paternostro is every bit the ingenious journalist that Márquez always aspired to be."– Srimoyee Bagchi, The Telegraph


"This superb book is biography minus the moral obligation or dutiful reverence--or, in other words, without the boring bits." --The Spectator