My Animals and Other Family (Hardcover)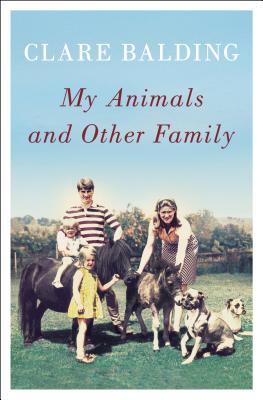 Description
---
" I had spent most of my childhood thinking I was a dog, and suspect I had aged in dog years. By the time I was ten I had discovered the pain of unbearable loss. I had felt joy and jealousy. Most important of all, I knew how to love and how to let myself be loved. All these things I learned through animals. Horses and dogs were my family and my friends. This is their story as much as it is mine. "
Clare Balding grew up in an unusual household. Her father a champion horse trainer, they shared their lives with more than one hundred thoroughbred racehorses, mares, foals, and ponies, as well as an ever-present pack of dogs, on a sprawling estate in the Hampshire Downs. As a child, Clare happily rode the legendary racehorse Mill Reef and received her first pony, Valkyrie, as a gift from Her Majesty the Queen of England.
But Clare ranked low in the family pecking order as a girl, she was decidedly below her younger brother, and both of them were certainly below the horses. Left to her own devices, she had to learn life's toughest lessons through the animals, and through her adventures in the stables and the surrounding idyllic English countryside.
From her struggles at boarding school to her triumphs as an amateur jockey and event rider, Clare weaves her own coming-of-age story through portraits of the beloved horses and dogs, from the protective Candy to the unruly Frank, who were her earliest friends.
The running family joke was that women ain t people. Clare has to prove them wrong, to make her voice heard but first she had to make sure she had something to say. "My Animals and Other Family" is a witty, brave, and moving account of stumbling often literally into one's true self.
About the Author
---
CLARE BALDING is an award-winning broadcaster and writer. At the London Olympics of 2012 she was proclaimed a national treasure' and acclaimed as the gold medal winning presenter of the Games.She became the face of the BBC s horse racing coverage in 1998, and now works across a wide range of sports for television and radio. She has been a lead TV presenter for the Olympics, Paralympics, Winter Olympics and Commonwealth Games. For more than twelve years, she has hiked across the British countryside for the BBC radio series "Ramblings. "In 2012 she was awarded Achievement of the Year at the Women in Film and TV Awards, the Media Award at the Red Hot Women of the Year Awards, was made TV Personality of the Year by Attitude Magazine and won Racing Broadcaster of the Year for the second time. A British newspaper ran the headline, ' Why Can't Everyone Be Clare Balding? Clare lives in west London with her partner, Alice, their wayward Tibetan terrier, Archie, and their cat, Itty. None of them have shown much interest in any of the awards, which is just fine."