Being Mortal: Medicine and What Matters in the End (Large Print / Paperback)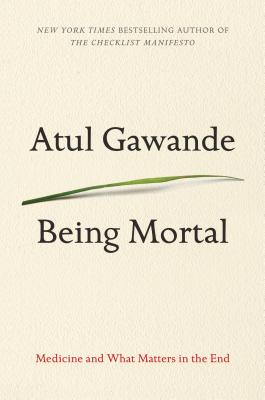 Staff Reviews
---
Don't be fooled, this is not a book about death. In fact, it's not the least bit sad or depressing. Instead, it's full of hope, grace, and love.With clarity and joy, Harvard-trained neurologist Gawande shares anecdotal glimpses into a new way of looking at the end of life. His focus is on living fully, each and every day right up to the end. It's an important book to read, because chances are we each will confront the death of someone close to us. And we'll be better equipped if we know what questions to ask, how to stimulate values-focused discussions, and how to create a care plan that focuses on living fully until the end. Get it, read it, and be glad Gawande wrote it.
— Wendee
November 2014 Indie Next List
---
"Widely respected and honored physician Gawande addresses aging and end-of-life issues in his newest book. He notes that we treat sickness, aging, and mortality as medical concerns, but that the medical professions are poorly equipped to help with the issues of what makes the quality life significant. Gawande proposes that well-being should be the focus at the end of life and carefully illustrates how to approach this difficult subject. A gracefully written book of great importance."
— Ann Carlson, Waterfront Books, Georgetown, SC
Description
---
In Being Mortal, bestselling author Atul Gawande tackles the hardest challenge of his profession: how medicine can not only improve life but also the process of its ending

Medicine has triumphed in modern times, transforming birth, injury, and infectious disease from harrowing to manageable. But in the inevitable condition of aging and death, the goals of medicine seem too frequently to run counter to the interest of the human spirit. Nursing homes, preoccupied with safety, pin patients into railed beds and wheelchairs. Hospitals isolate the dying, checking for vital signs long after the goals of cure have become moot. Doctors, committed to extending life, continue to carry out devastating procedures that in the end extend suffering.

Gawande, a practicing surgeon, addresses his profession's ultimate limitation, arguing that quality of life is the desired goal for patients and families. Gawande offers examples of freer, more socially fulfilling models for assisting the infirm and dependent elderly, and he explores the varieties of hospice care to demonstrate that a person's last weeks or months may be rich and dignified.

Full of eye-opening research and riveting storytelling, Being Mortal asserts that medicine can comfort and enhance our experience even to the end, providing not only a good life but also a good end.