Tell Me I'm An Artist (Paperback)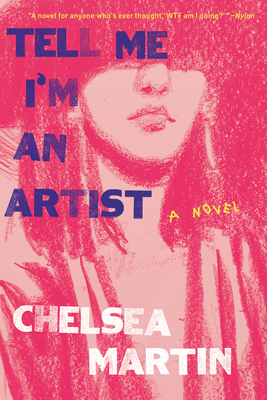 $17.95

Available - On our shelves now
October 2022 Indie Next List
---
"Chelsea Martin completely nails what it's like to be in a creative space that is quietly but heavily divided by class. Who can focus on creativity when they worry about making rent? The protagonist is written with such care and insight."
— Audrey Kohler, BookWoman, Austin, TX
Description
---
"Portrait of the artist as a broke and brilliant, hungry and funny young woman" (Lynn Steger Strong, author of Want), this hilarious and incisive coming-of-age novel about an art student from a poor family struggling to find her place in a new social class of rich, well-connected peers is perfect for fans of Elif Batuman's The Idiot and Weike Wang's Chemistry




At her San Francisco art school, Joey enrolls in a film elective that requires her to complete what seems like a straightforward assignment: create a self-portrait. Joey inexplicably decides to remake Wes Anderson's Rushmore despite having never seen the movie. As Tell Me I'm An Artist unfolds over the course of the semester, the assignment hangs over her as she struggles to exist in a well-heeled world that is hugely different from any she has known.

Miles away, Joey's sister goes missing, leaving her toddler with their mother, who in turn suggests that Joey might be the selfish one for pursuing her dreams. Meanwhile, her only friend at school, the enigmatic Suz, makes meaningful, appealing art, a product of Suz's own singular drive and talent as well as decades of careful nurturing by wealthy, sophisticated parents.

A masterful novel from an author known for her candid and searching prose, Tell Me I'm An Artist examines the invisible divide created by class and privilege, ruminates on the shame that follows choosing a path that has not been laid out for you, and interrogates what makes someone an artist at all.
About the Author
---
CHELSEA MARTIN is the author of the essay collection Caca Dolce and the novella Mickey, among other books. She lives in Spokane, WA with her husband and child.




Praise For…
---
A NPR Best Book of the Year
Nylon, A Most Anticipated Book of the Year
The Millions, A Most Anticipated Book of the Year

"Tell Me I'm an Artist perfectly probes the collision of financial insecurity and artistic self-doubt." —Kristen Martin, A NPR Best Book of the Year

"Tell Me I'm an Artist is jammed with dialogue, female friendships, family dramas and Internet search results. ('Lee Krasner,' alongside 'Pop-Tart nutritional value.') Readers might find something of an even more youthful Sally Rooney in these things . . . [Martin's] humor and nuance keep the reader going . . . Though Martin's novel shows the influence of Rooney's brilliant ear for dialogue, both online and IRL, Tell Me I'm an Artist is a direct rebuttal to the notion that novelists must ignore precarity if they want to be marketable." —Jessica Ferri, Los Angeles Times

"It's the larger feminist question ungirding these pages that gives the book its weight: What do women owe their families? And what happens when they cut those ties to become artists? . . . Even though Joey doesn't end up making any great art, her path is a reminder that pursuing one's vision of an artistic life is its own reward, and a messy personal life is often part and parcel of the art journey." —Anisse Gross, San Francisco Chronicle

"This is the great contemporary American novel about class. Martin's debut captures the often unconsidered ways that class will shape a life you've convinced yourself in charge of. [It] also does that magic thing that only the greatest of fiction can do: It makes you think that maybe art can save you." —Emma Levy, A Seattle Times Best Book of the Year

"Even while Tell Me I'm An Artist distills some pretty heavy subjects, Martin does so in her signature breezy, humor-infused style. Joey is unapologetically self-deprecating, but completely relatable in her awkward attempts to fit in and discover her artistic purpose." —Chey Scott, The Inlander

"A novel for anyone who's ever thought, 'WTF am I doing?' about their art." —Sophia June, Nylon, One of the Must-Read Books of the Month

"An intimate, funny, and poignant portrait of a youthful, artful life in flux." —Sarah Neilson, Shondaland

"Martin is certainly a duchess if not a queen of autofiction, and lovers of her previous novella Mickey or essay collection Caca Dolce will be looking for her comeback." —Erin Taylor, Observer

"Tell Me I'm An Artist argues the forging of identity itself is a creative process. In it, Martin delineates the way the creative process can be a conduit for either self-discovery or self-annihilation . . . Every person, young or old, who has ever wanted to make something will see some part of themselves in some part of [Joey]. What makes Joey's journey immensely readable is Martin's obvious empathy for her protagonist and for the act of creation." —Naomi Elias, KQED Arts

"Chelsea Martin is one of the funniest writers working today . . . Martin is brilliant at presenting the absurdities of life in a deadpan, but always compassionate (and always hilarious) way. This is a book for everyone who can never quite tell whether everything matters or nothing matters, and wants to feel less alone as they figure out how to create meaning for themselves." —Kristin Iversen, Just Circling Back

"An addictive coming-of-age story and a shrewd novel of manners. As Martin brings into focus the contemporary relationship between cultural production and social mobility, her deadpan satire gives way to a big-hearted, boom-box-thrust-in-the-air defense of making art." —Nicole Miller, Hyperallergic

"[A] stellar debut novel . . . Martin clearly understands one of the most painful truths about living a creative life: Talking about making something, whether it be a Rushmore remake or a book review, is a lot easier than creating the thing itself." —Peter Dyer, Full Stop

"Tell Me I'm An Artist is a manifesto, a search history, a film script, a to-do list, and even a series of Craigslist posts, but above all, it's a resonant and moving portrait of an artist searching for her identity." —Abigail Oswald, Chicago Review of Books

"Chelsea writes with wry observational humor about both her internal and external worlds in a way that is deeply warm, relatable and utterly hilarious. Tell Me I'm An Artist is a campus novel of sorts, but an art school campus—a place many readers have never had the pleasure of visiting. And it's such a fun place to visit when the reader gets to do it through Chelsea's brilliant writing." —Barrie Miskin, Write or Die Tribe

"Tell Me I'm An Artist is a stunning, hilarious, perfect ode to growing up and growing into yourself as a girl, a person, a friend, a family member, and an artist . . . A masterpiece and a piece of comedic genius; I loved it and so will you." —Julia Hass, A Literary Hub Most Anticipated Book of the Year

"Hilarious . . . Tell Me I'm An Artist is for any creative person who has tried to make art through the mess, the critiques, and the navigation of learning and unlearning our unique creative voices." —Kateri Kramer, The Rumpus

"An art student wrestles with creative and family trouble in this empathetic novel. . . . The art school comedy of manners gives way to a deeper story about navigating disparate worlds and struggling with situations without easy answers. An unconventional and subtly powerful coming-of-age story." —Kirkus Reviews (starred review)