How to Think Like a Horse: The Essential Handbook for Understanding Why Horses Do What They Do (Paperback)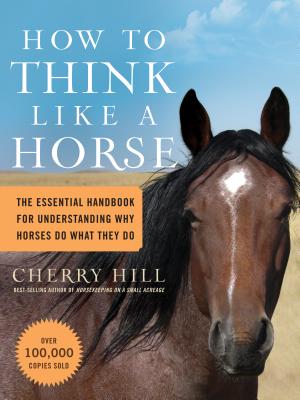 $19.95

Available to order - Usually arrives at our store in 1-5 days
Description
---
In this fascinating best seller, Cherry Hill explores the way horses think and how it affects their behavior. Explaining why certain smells and sounds appeal to your horse's sensibility and what sets off his sudden movements, Hill stresses how recognizing the thought processes behind your horse's actions can help you communicate effectively and develop a trusting relationship based on mutual respect.
About the Author
---
Cherry Hill is an internationally known instructor and horse trainer and has written numerous books, including 101 Arena Exercises for Horse & Rider, Horsekeeping on a Small Acreage, How to Think Like a Horse, What Every Horse Should Know, and Horse Care for Kids. Visit her at www.horsekeeping.com, where you can find information on her books, DVDs, and horsekeeping knowledge.
Praise For…
---
"…an eye opener…Hill's book is the essential handbook – not too technical yet seriously written from her 30 years of experience."
"Any horse owner, from beginner to advanced, will find information of value in this book. The author's tone is authoritative without being condescending, and the layout makes it easy to grasp nuggets of knowledge even at a glance."
Horse Rider, March 2007
"If more of us read this book, there might be a lot less whip-cracking, bolting, and biting in our daily lives. BOTTOM LINE: Your horse suggests you pick this one up."
Horseman's Yankee Pedlar, January 2007
"Hill first guides the reader through the physical, mental, evolutionary and social processes that lead to common equine behavioral traits. She then relates how that knowledge can be applied practically and routinely at the barn to create an effective partnership between horse and human…In short, a multitude of considerations ultimately affect how well a human communicates with his or her horse when mastering new skills and Hill capably addresses them all with insights she's gained from her lifetime of equestrian experience."
Western Horseman, January 2007
"Each chapter is packed with specific, sensible, and useful information on every aspect of the horse from the physical to the mental and from the emotional to the social."
America's Bridle and Bit, August 2006
"Packed with fascinating facts, it draws you in to the horse's world before you know it."
Knight Equestrian Books