The Ultimate Horse Behavior and Training Book: Enlightened and Revolutionary Solutions for the 21st Century (Paperback)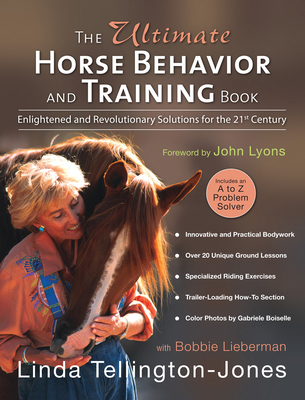 $34.95
Email or call for price
Description
---
Finally, a comprehensive collection of world-renowned equine expert Linda Tellington-Jones' healing equine bodywork and training exercises, for use both on the ground and in the saddle.
In one fabulously illustrated book, those new to Linda's approach are provided with a clear, step-by-step introduction to the Tellington Method, while those familiar with her work finally have the ultimate go-to reference. The book is divided into three parts:
Part One briefly explains the background of the Tellington Method and then discusses the reasons for unwanted behavior and poor attitude in horses.
Part Two, arranged alphabetically, contains a compendium of 72 common behavioral, training and health issues, many of which horse people face on a daily basis. In this A to Z format, from Aggressive to Other Horses to Weaving, Linda discusses the possible reasons for these behaviors or problems and offers conventional methods of solving these challenges, as well as training solutions using the Tellington Method.
Part Three presents--for the first time in one volume--the complete body of work that up the Tellington Method: the Tellington TTouches, Ground Exercises, and Ridden Work. At the end of this section, there is also a detailed case study, which includes 49 photographs showing every step along the way to successfully teaching your horse to load.
About the Author
---
Linda Tellington-Jones is the internationally recognized equine expert who developed the Tellington Method approach to healing, training, and communicating that can be learned and practiced by horsemen and women of all levels. She was honored as the 1994 Horsewoman of the Year by the North American Horseman's Association and presented with the ARICP Lifetime Achievement Award, given annually to a person who profoundly affects the equine world in a positive manner. Tellington-Jones is the author of numerous books and DVD programs, including the bestselling The Ultimate Horse Behavior and Training Book, and she routinely travels worldwide teaching her methods. When not on the road, she lives in Hawaii. Bobbie Lieberman has an extensive background in equine journalism, writing regularly for EQUUS Magazine. She lives in Arizona.
Praise For…
---
"Linda's fabulous new book is by far the best that has ever been published on her TTouch Work." Trail Blazer 2007

"A heavyweight in any horse lover's book collection."Equine Wellness

"With plenty of white space, 364 color photographs, and 81 color illustrations, the book is a pleasure to read." Western Horseman

"Horse lovers who like the methods and books of Pat Parelli and John Lyons, who wrote an introduction to this book, will appreciate this volume." Library Journal

"Keep this one nearby; you'll want to refer to it again and again!" Horsemen's Yankee Pedlar