Stolen Souls (Hardcover)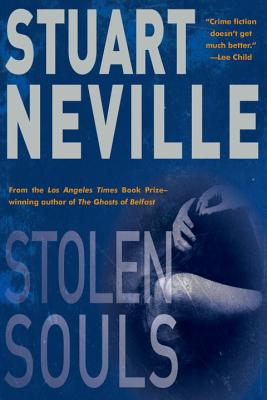 $25.00
Email or call for price
Description
---
Galya Petrova travels to Ireland on a promise that she will work for a nice Russian family, teaching their children English. Instead, she is dragged into the world of modern slavery, sold to a Belfast brothel, and held there against her will.
 
She escapes at a terrible cost—the slaying of one of her captors—and takes refuge with a man who offers his help. As the traffickers she fled scour the city for her, seeking revenge for their fallen comrade, Galya faces an even greater danger: her savior is not what he seems. She is not the first trafficked girl to have crossed his threshold, and she must fight to avoid their fate.
 
Detective Inspector Jack Lennon wants a quiet Christmas with his daughter, but when an apparent turf war between rival gangs leaves bodies across the city, he knows he won't get it. As he digs deeper into the case, he realizes an escaped prostitute is the cause of the violence, and soon he is locked in a deadly race with two very different killers.
About the Author
---
Stuart Neville is the author of two previous books, "Collusion" and "The Ghosts of Belfast," winner of the 2010 "LA Times" Book Prize and the Spinetingler Award for Best First Novel, and a finalist for the Macavity Award, the Barry Award, and Anthony Award for Best First Novel. He lives in Armagh, Northern Ireland.
Praise For…
---
Praise for Stolen Souls:

"Top-notch Irish crime fiction ... one senses a diamond-hard stillness at the heart of Neville's prose, despite the hurtling plot. This leaves us poised between savoring the beauty of his words and reading madly to get to the end."—Los Angeles Times

"Gripping, compassionate and packed with wonderfully realised characters, this is a book that will stay with you long after you finish it. Just three books in and Stuart Neville is already a crime-writing star."—Mark Billingham, author of Lazybones

"Neville slowly ratchets up the tension—and the violence—until each page practically twangs with suspense."—Publishers Weekly

"Vivid characters and atmosphere.... 'The gray and the rain and the hate' of Lennon's Belfast make these streets among the very meanest in the genre."—Booklist

"You read Stolen Souls wincing, in thrall to Neville's brilliance but wishing you weren't." —Guardian

"Neville excels at conjuring up memorable details.... A gripping excursion into the nightside of humanity, but it is not without its richness and insights. It burrows into your brain like the best dark fairy tales."—Mystery Scene

Praise for Stuart Neville:
 
"Neville's novel is a coldly lucid assessment of the fragility of the Irish peace ... a rare example of legitimate noir fiction."—The New York Times Book Review
 
"Stuart Neville belongs to a younger generation of writers for whom the region's darkest years are history—but that history endures, as his first novel, 'The Ghosts of Belfast,' shockingly demonstrates.... This noir thriller plays out in a Belfast that, even in summer sunshine, remains oppressively gray. The clannishness of its inhabitants is vividly evoked.... A riot scene, one of the novel's best, captures a new generation's appetite for blood and an old veteran's nostalgia.... In scene after gruesome scene, Neville attempts to persuade us that this time around, with this repentant murderer, the killing is different."—Washington Post
 
"Neville's tightly wound, emotionally resonant account of an ex-IRA hit man's struggle to conquer his past, displays an acute understanding of the true state of Northern Ireland, still under the thumb of decades of violence and terrorism."—Los Angeles Times
 
"Stuart Neville is Ireland's answer to Henning Mankell."—Ken Bruen
 
"The Ghosts of Belfast is a tale of revenge and reconciliation shrouded in a bloody original crime thriller.... Brilliant."—Milwaukee Journal Sentinel
 
"Neville's debut novel is tragic, violent, exciting, plausible, and compelling.... The Ghosts of Belfast is dark, powerful, insightful, and hard to put down."—Booklist

"Neville slowly ratchets up the tension—and the violence—until each page practically twangs with suspense."—Publishers Weekly