Stagestruck: A Peter Diamond Investigation (Hardcover)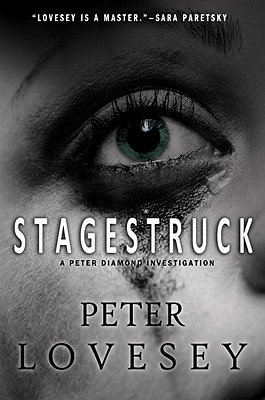 $25.00
Email or call for price
Description
---
The eleventh Peter Diamond Investigation
Pop diva Clarion Calhoun has packed the house with her celebrity appearance in Bath's Theatre Royal production of "I Am a Camera." But within moments of her much-anticipated onstage appearance, she's pulled out of character as she screams and claws at her face.
When tainted stage makeup is found to have caused the disfiguring burn, fingers point to her makeup artist. Detective Superintendent Peter Diamond investigates when the makeup artist is found dead, pushed from a catwalk far above the stage. As Diamond digs deeper, he uncovers rivalries among the cast and crew and is forced to confront his own mysterious and deep-seated theatre phobia to find the killer.
About the Author
---
Peter Loveseyis the author of more than thirty highly praised mystery novels. He has been awarded the CWA Gold and Silver Daggers, the Cartier Diamond Dagger for Lifetime Achievement, the "Strand Magazine" Award for Lifetime Achievement, the Macavity, Barry, and Anthony Awards, and many other honors. He lives in West Sussex, England.
Praise For…
---

Praise for Stagestruck

A New York Times Notable Book

"A brilliantly conceived and smartly executed mystery set in the hallowed Theater Royal of Bath.... As always, the plot's the thing with Lovesey, and the solution to the mystery of Clarion's disfigurement, while arrived at fair and square, is stunning. But the story also has genuine depth and dimension."
—The New York Times Book Review

"Mr. Lovesey's narrative is swift, but he takes time out for local color and abundant humor, the latter springing from the book's quirky characters.... Lovesey is a wizard at mixing character-driven comedy with realistic-to-grim suspense. And in a writing career spanning four decades, he has created a stylish and varied body of work.... That Mr. Lovesey would make a midcareer transition from period fiction to contemporary police investigations is just as surprising as one of the sudden mood shifts in any of his idiosyncratic works—and just as satisfying."
—Wall Street Journal

"Lovesey, as always, uses his wit like a whip and whirls through the theatre scene like a scourge. Bodies drop, clues appear, and it's all done with the master's perfect touches, including witty dialogue, smart plotting and superior characters. Definitely one of Lovesey's best."
—Toronto Globe and Mail

"Superb…Once again, Lovesey proves he has few peers as a crafter of contemporary fair-play whodunits."
—Publishers Weekly, Starred Review

"From that start, Lovesey has grown a series combining fair-play puzzle themes with eccentric players, situations that demonstrate the clash between Britain's past and present, and much humor mined from Diamond's frustration in dealing with subordinates who are less old-fashioned in their ways of crime-solving…Lovesey has shown himself to be a master of mystery-making and misdirection, with the prizes to prove it. Stagestruck earns him more kudos for effectively deploying an ensemble cast, particularly journalist-turned-detective Ingeborg Smith."
—Kirkus Reviews

"In top-notch, Simon Brett manner (see the Charles Paris series), Lovesey serves up threatrical superstitions, rituals, and diehard rivalries as Diamond overcomes his own phobia about being backstage in a theater to find the killer. Vivid and fun."
—Booklist


Praise for the Peter Diamond Series

"These erudite and wondrously witty books are unlike any police procedural you've ever read."
—The New York Times Book Review

"Lovesey's novels are consistently well plotted and his characters smart and witty."
—Milwaukee Journal Sentinel

"History, humor, inspired clues, maniacal twists and a paean to the beauty of the Bath countryside. Lovesey, who's won every prize going, deserves another for Diamond's tenth. "
—Kirkus, STARRED REVIEW

"Diamond remains one of the most realistic and human of fictional sleuths...sharp prose and characterization make this another winner in this enduring series."
—Publishers Weekly