Being Toffee (Hardcover)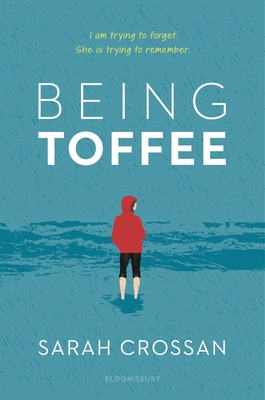 $17.99
Available to order - Usually arrives at our store in 1-5 days
Description
---
I am not who I say I am,
and Marla isn't who she thinks she is.

I am a girl trying to forget.
She is a woman trying to remember.

Allison has run away from home and with nowhere to live finds herself hiding out in the shed of what she thinks is an abandoned house. But the house isn't empty. An elderly woman named Marla, with dementia, lives there and she mistakes Allison for an old friend from her past named Toffee.

Allison is used to hiding who she really is, and trying to be what other people want her to be. And so, Toffee is who she becomes. After all, it means she has a place to stay. There are worse places she could be.

But as their bond grows, and Allison discovers how much Marla needs a real friend, she begins to ask herself - where is home? What is a family? And most importantly, who is she, really?
About the Author
---
Sarah Crossan is originally from Dublin. She graduated with a degree in philosophy and literature before training as an English and drama teacher at Cambridge University and has been working to promote creative writing in schools since. She taught English at a small private school near New York until she became a full time writer. She completed her Masters in creative writing at the University of Warwick in 2003 and in 2010 received an Edward Albee Fellowship for writing. Sarah lives in Hertfordshire with her husband and their daughter.
Praise For…
---
Beautiful An uncommon, successful approach to a tough topic. Kirkus Reviews (starred review)

This exquisitely well-balanced novel-in-verse is painful to read yet almost impossible to put down. . . . Each character is fully realized, with even walk-on characters brought vividly to life with a few deft words. . . . A must-purchase for collections. SLJ on MOONRISE (starred review)

Beautifully told and incredibly powerful. . . . Deeply moving and thoughtful, Moonrise is a challenging, potent reminder that there is great injustice in the justice system and questions whether the death penalty is ever a fitting punishment. Foreword Reviews on MOONRISE (starred review)

Brutally emotional . . . Crossan's eloquent usage of language in this deeply affecting novel puts readers right at the heart of a very sensitive and timely story. Kirkus Reviews on MOONRISE

Crossan masterfully portrays Joe's intense feelings of confusion, anger, and abandonment through conversational, fluid free verse, with thoughtful rhythm and line breaks. Publishers Weekly on MOONRISE

The novel-in-verse format . . . manages to capture many complex emotions while saying very little, leaving the core of the story to captivate and immerse readers. The ending will utterly devastate readers; it could also trigger some really great conversations between teens and adults regarding social issues. VOYA on MOONRISE

Touching and heartrending . . . A timely catalyst destined to spark discussions about rights, fairness, and a justice system that succeeds for some but devastates others. Booklist on MOONRISE

By telling Ed's story and focusing attention on the kindness and grief of people who have likewise lost relatives to execution as well as the toll it takes on the warden and his daughter, Crossan complicates the sites of empathy and ethics around this issue, making this rarely told story a useful discussion starter. BCCB on MOONRISE