The Incurable Romantic: And Other Tales of Madness and Desire (Hardcover)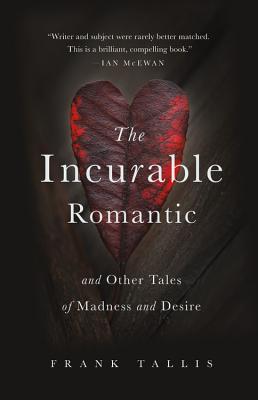 Staff Reviews
---
Tallis takes us a through a series of case studies--dotted with the history of psychology, sprinkled with his own personal reactions, and strung together with the theme of pathological love. An excellent choice for the layperson interested in psychology.
— From
Melanie
Description
---
A psychologist explores the intersection of love and madness through the riveting stories of the patients he has treated
In The Incurable Romantic, Frank Tallis recounts the extraordinary stories of patients who are, quite literally, madly in love: a woman becomes utterly convinced that her dentist is secretly infatuated with her and drives him to leave the country; a man destroys his massive fortune through trysts with over three thousand prostitutes--because his ego requires that they fall in love with him; a beautiful woman's pathological jealousy destroys the men who love her. Along the way, we learn a great deal about the history of psychiatry and the role of neuroscience in addressing disordered love. Elegantly written and infused with deep sympathy, The Incurable Romantic shows how all of us can become a bit crazy in love.

About the Author
---
Frank Tallis is a clinical psychologist and the critically acclaimed author of over fifteen fiction and nonfiction titles. He previously taught clinical psychology at the Institute of Psychiatry and neuroscience at King's College, London. He splits his time between London and Bonnieux, France.


Praise For…
---
"Gripping...One of the points Tallis is making is that when we fall in love, we flirt with madness."—Nick Hornby, The Believer

"People driven mad by love is the stuff of operas. But Tallis, a clinical psychologist, takes a serious look at the neuroscience of the phenomenon, focusing on sensational case studies--like the man who kept 3,000 prostitutes in his employ, spending all his money in the hopes that they would fall in love with him."—New York Times

"Stories about those who arrive on a therapist's couch to complain about their love woes may appeal to our instincts for voyeurism, but Mr. Tallis never veers into prurience. Instead, he artfully heightens the ways these patients should feel familiar, as we all know a little something of love's madness."—Wall Street Journal

"Tallis gives readers a peek inside the therapist's office and a sense of how otherwise reasonable people can go crazy over love.... Even if we no longer recognize love as a disorder, we cannot deny its power to destabilize and distort."—Washington Post

"Thrilling, sometimes desperate, shockingly dark."—New York Journal of Books

"Part memoir, part scientific exploration, [The Incurable Romantic] chronicles more than a dozen tales of love gone horribly wrong."—New York Post

"Mr. Tallis is a gifted storyteller....In The Incurable Romantic he applies a novelist's skill to his clinical material....[His] characters remain sharply, painfully real, their stories as inconclusive, messy and fascinating as life."—Economist

"The Incurable Romantic earns its place in the fine tradition of popular psychoanalytic writing, exemplified by Irvin D. Yalom's excellent book of case studies, Love's Executioner....[Tallis] is an amiable and acute guide to the madness of love."—Times (London)

"[Tallis] knows how to tell a story. Boy, does he know how to tell a story. This powerful and moving book is not just about individual cases. It's also about what the human animal needs....Powerful and moving."—Sunday Times (London)

"[Tallis is] a brilliant raconteur....Only someone who has never felt sick falling head over heels, suffered the agonizing pangs of jealousy, battled bestial fogs of lust or wallowed in the delirious happiness of being entwined with the object of their love could fail to be fascinated."—Evening Standard (London)

"Thoughtful...Tallis has a graceful narrative style, easily incorporating brief digressions on deeper philosophical issues such as free will versus determinism. Most importantly, his book is suffused with compassion, avoiding facile categorization and struggling to understand and empathize with his patients as people in pain."—Publishers Weekly

"Moving, at times disturbing, and revealing-like having a productive, revelatory discussion with a trusted friend."—Kirkus Reviews

"For anyone who appreciates stories that delve into the psychological experience of love."—Library Journal

"Tallis explores...head-spinning tales of love gone wrong."—Booklist

"[Tallis's] compassion for the lovelorn shows."—Rushville Republican

"Writer and subject were rarely better matched. The pain and destructiveness of obsessive love takes many fascinating forms. In this superb study Frank Tallis brings a lifetime's clinical experience and wise reflection to a condition that, by its own strange routes, leads us into the very heart of love itself. This is a brilliant, compelling book."
—Ian McEwan

"This fascinating memoir peers deep into the dark heart of love."
—Herald

"Frank, informative and often bleakly funny..."—Helen Brown, Telegraph

"In the vein of The Man Who Mistook His Wife for a Hat, The Incurable Romantic is a compilation of the real-life case studies of a clinical psychologist...Tallis draws his characters with such wit and skill."—Guardian