The Writing of the Gods: The Race to Decode the Rosetta Stone (Paperback)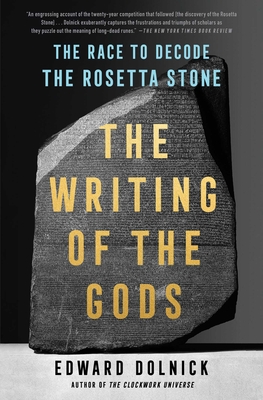 $20.00

Available to order - Usually arrives at our store in 1-5 days
Description
---
The fast-paced and "engrossing account" (The New York Times Book Review) of "one of the greatest breakthroughs in archaeological history" (The Christian Science Monitor): two rival geniuses in a race to decode the writing on one of the world's most famous documents—the Rosetta Stone.

The Rosetta Stone is one of the most famous objects in the world, attracting millions of visitors to the British museum every year, and yet most people don't really know what it is. Discovered in a pile of rubble in 1799, this slab of stone proved to be the key to unlocking a lost language that baffled scholars for centuries.

Carved in ancient Egypt, the Rosetta Stone carried the same message in different languages—in Greek using Greek letters, and in Egyptian using picture-writing called hieroglyphs. Until its discovery, no one in the world knew how to read the hieroglyphs that covered every temple and text and statue in Egypt.

Dominating the world for thirty centuries, ancient Egypt was the mightiest empire the world had ever known, yet everything about it—the pyramids, mummies, the Sphinx—was shrouded in mystery. Whoever was able to decipher the Rosetta Stone would solve that mystery and fling open a door that had been locked for two thousand years.

Two brilliant rivals set out to win that prize. One was English, the other French, at a time when England and France were enemies and the world's two great superpowers. Written "like a thriller" (Star Tribune, Minneapolis), The Writing of the Gods chronicles this high-stakes intellectual race in which the winner would win glory for both himself and his nation. A riveting portrait of empires both ancient and modern, this is an unparalleled look at the culture and history of ancient Egypt, "and also a lesson…in what the human mind does when faced with a puzzle" (The New Yorker).
About the Author
---
Edward Dolnick is the author of Dinosaurs at the Dinner Party, The Writing of the Gods, The Clockwork Universe, The Forger's Spell, and the Edgar Award–winning The Rescue Artist, among other books. A former chief science writer at The Boston Globe, he has written for The Atlantic, The New York Times Magazine, and many other publications. He lives with his wife near Washington, DC.
Praise For…
---
"Masterful. . . . The Writing of the Gods is an engrossing account of one of the greatest breakthroughs in archaeological history, one that brought a dead language, and a buried culture, back to life." —Christian Science Monitor

"Dolnick exuberantly captures the frustrations and triumphs of scholars as they puzzle out the meaning of long-dead runes." —New York Times Book Review

"An entertaining account of a great intellectual achievement." —The Economist

"Dolnick treats [Young and Champollion's] efforts like a thriller. . . . entertaining." —Minneapolis Star Tribune

"[Dolnick] has a remarkable ability to explain and contextualize complex topics and create compelling, lucid nonfiction narratives. . . . Dolnick brings this period of history to life in the same way the Rosetta Stone revived ancient Egypt." —BookPage (starred review)

"Stimulating. . . . an immersive and knowledgeable introduction to one of archaeology's greatest breakthroughs." —Publishers Weekly

"A fast-paced intellectual adventure. . . . Highly recommended." —Library Journal