The World That We Knew: A Novel (Paperback)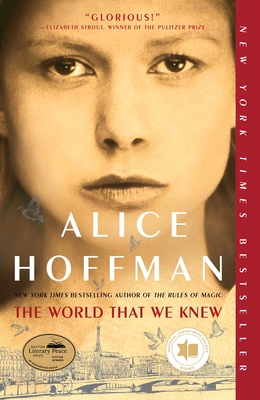 $17.00

Available to order - Usually arrives at our store in 1-5 days
Staff Reviews
---
Set in Germany and France in the 1940's, it is a story that follows a young girl who escapes the Gestapo with the aid of a mystical Jewish creature, a Golem. Beautifully and lyrically written, I could not put it down!
— From
Judy
October 2019 Indie Next List
---
"Alice Hoffman, author of numerous novels—The Dovekeepers, The Marriage of Opposites, and The Museum of Extraordinary Things, among others—does her magic again with The World That We Knew. This is a story of great love and loss, a story of strong characters who, with heartfelt courage, save others by risking their own lives. The reader is taken on a journey of the world that once was—of memories of a past tainted by hatred during WWII. Alice Hoffman's writing is passionate, poetic, and profound. This novel captivated me from the start and left me spellbound. A must-read!"
— Mollie Loughlin, The Book Vine, Cherokee, IA
Description
---
NEW YORK TIMES BESTSELLER * LONGLISTED FOR THE ANDREW CARNEGIE MEDAL

On the brink of World War II, with the Nazis tightening their grip on Berlin, a mother's act of courage and love offers her daughter a chance of survival.

"[A] hymn to the power of resistance, perseverance, and enduring love in dark times…gravely beautiful…Hoffman the storyteller continues to dazzle." —THE NEW YORK TIMES BOOK REVIEW

At the time when the world changed, Hanni Kohn knows she must send her twelve-year-old daughter away to save her from the Nazi regime. Her desperation leads her to Ettie, the daughter of a rabbi whose years spent eavesdropping on her father enables her to create a mystical Jewish creature, a rare and unusual golem, who is sworn to protect Hanni's daughter, Lea. Once Ava is brought to life, she and Lea and Ettie become eternally entwined, their paths fated to cross, their fortunes linked.

What does it mean to lose your mother? How much can one person sacrifice for love? In a world where evil can be found at every turn, we meet remarkable characters that take us on a stunning journey of loss and resistance, the fantastical and the mortal, in a place where all roads lead past the Angel of Death and love is never-ending.
About the Author
---
Alice Hoffman is the author of more than thirty works of fiction, including The Book of Magic, Magic Lessons, The World That We Knew, Practical Magic, The Rules of Magic (a Reese Witherspoon Book Club Pick), the Oprah's Book Club Selection Here on Earth, The Red Garden, The Dovekeepers, The Museum of Extraordinary Things, The Marriage of Opposites, and Faithful. She lives near Boston.
Praise For…
---
Winner of the Dayton Literary Peace Prize and the National Jewish Book Award for Book Club

"Oh, what a book this is! Hoffman's exploration of the world of good and evil, and the constant contest between them, is unflinching; and the humanity she brings to us—it is a glorious experience. The book builds and builds, as she weaves together, seamlessly, the stories of people in the most desperate of circumstances—and then it delivers with a tremendous punch. It opens up the world, the universe, in a way that it absolutely unique. By the end you may be weeping."—ELIZABETH STROUT, Pulitzer Prize-winning author of Olive Kitteridge

"Alice Hoffman's new novel will break your heart, and then stitch it back together piece by piece. It's about love and loss, about history and the world today, about what happens when man goes against the laws of nature for good and for evil. It's my new favorite Hoffman book—and if you know how much I adore her writing, that's truly saying something."—JODI PICOULT, New York Times bestselling author of Small Great Things and A Spark of Light

"[A] hymn to the power of resistance, perseverance and enduring love in dark times…gravely beautiful…Hoffman the storyteller continues to dazzle."—NEW YORK TIMES

"Every page of The World That We Knew by Alice Hoffman is a delicious shock. Even the most wrenching moments are rendered with delicacy and beauty. And, c'mon, it's about a 12-year-old trying to escape the Nazis with the help of a golem. How do you not love that?" — Joe Hill, New York Times bestselling author of Stange Hill and The Fireman

"A spellbinding portrait of what it means to be human in an inhuman world."—KIRKUS REVIEWS (STARRED REVIEW)

"An exceptionally voiced tale of deepest love and loss…one of [Hoffman's] finest. WWII fiction has glutted the market, but Hoffman's unique brand of magical realism and the beautiful, tender yet devastating way she explores her subject make this a standout."—BOOKLIST (STARRED REVIEW)

"One of America's most brilliant novelists since her debut, Property Of, Hoffman uses her signature element of magical realism to tackle an intolerably painful chapter in history. Readers know going in that their hearts will be broken, but they will be unable to let go until the last page."—LIBRARY JOURNAL (STARRED REVIEW)

"Page by page, paragraph by paragraph, sen- tence by sentence, The World That We Knew presents a breathtaking, deeply emotional odyssey through the shadows of a dimming world while never failing to convince us that there is light somewhere at the end of it all. This book feels destined to become a high point in an already stellar career."—BOOKPAGE (STARRED REVIEW)

"Set in Nazi-occupied France between 1941 and 1944, Hoffman's latest (after The Rules of Magic) is a bittersweet parable about the costs of survival and the behaviors that define humanity."—PUBLISHERS WEEKLY