Vathek (Paperback)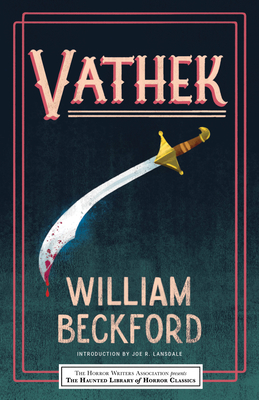 $14.99
Available - On our shelves now
Description
---
Next book in the Haunted Library of Horror Classics. When you have all you could ever want--power, wealth, influence, status--what's left to wish for?
Vathek, the majestic and fierce ninth caliph of the Abassides, has the world at his feet, with pleasure palaces constructed solely to satisfy his every possible appetite. Both his anger and his intellect are legendary; possessed of an intense thirst for knowledge, he often invites scholars to converse with him, but imprisons those who cannot be persuaded via logic or bribes to his point of view. Nothing is beyond his grasp, until a hideous stranger sells him glowing swords with letters on them that cannot be translated even by experts--because the letters are ever changing as if by magic
Obsessed with obtaining the stranger's knowledge, Vathek undertakes a massive search of his kingdom. His journey becomes increasingly horrific as he ventures into the underworld, meeting demons and witches. Will love of Mohammed or country or a young woman he encounters be enough to turn him from his foolish quest? Or will the lust for power prove too strong to resist?
Featuring an introduction by acclaimed writer Joe R. Lonsdale, this is the Haunted Library of Horror Classics reprint of the classic gothic horror novel Vathek by William Beckford. A timeless exploration of power, greed, and often elusive redemption, this horror classic posses the question: are the answers to ancient secrets worth your soul?
A shining example of literary occult horror, Vathek will remain with you long after you close its pages:
Perfect for fans of Edgar Allan Poe and Bram StokerFor readers who enjoy classical literature and horror novel