The Self-Sufficient Life and How to Live It: The Complete Back-to-Basics Guide (Hardcover)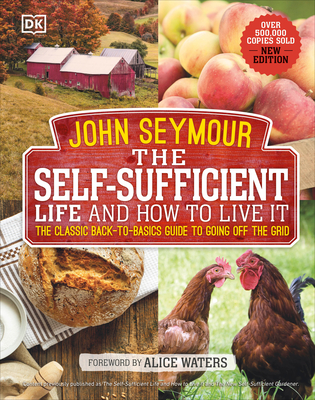 $35.00
Email or call for price
Description
---
Embrace off-grid green living with the bestselling classic guide to a more sustainable way of life from the father of self-sufficiency. 

For over 40 years, John Seymour has inspired thousands to make more responsible, enriching, and eco-friendly choices with his advice on living sustainably. 

The Self-Sufficient Life & How To Live It offers step-by-step instructions on everything from chopping trees to harnessing solar power; from growing fruit and vegetables, and preserving and pickling your harvest, to baking bread, brewing beer, and making cheese. Seymour shows you how to live off the land, running your own smallholding or homestead, keeping chickens, and raising livestock. 

Featured in pages of this off-grid guide, you will find: 

- Detailed advice for achieving a self-sufficient lifestyle no matter your outdoor space, including guides for getting the most from urban gardens, allotments, and larger holdings.
- Encyclopaedic knowledge on cultivating fruits and vegetables, rearing and preparing livestock, foraging, brewing, and home crafts like woodwork and pottery.
- Beautiful illustrated galleries of fruit and vegetables to inspire growers.
- Charming original hand-drawn illustrations accompany step-by-step guides to dozens of home crafts and self-sufficiency skills, including storing crops, saddling horses, butchering a pig, making wine, and making a footstool.
- A new foreword from a high-profile current follower and advocate of his message.


In a world of mass production, intensive farming, and food miles, Seymour's words offer an alternative: a celebration of the joy of investing time, labor, and love into the things we need. While we can't all be able to move to the countryside, we can appreciate the need to eat food that has been grown ethically or create things we can cherish, using skills that have been handed down through generations. With refreshed, retro-style illustrations and timeless advice reviewed to reflect the latest organic gardening guidelines, this new edition of Seymour's classic title is a balm  for anyone who has ever sought solace away from the madness of modern life.
About the Author
---
John Seymour was a pioneer of the self-sufficiency movement, and worked as a writer, broadcaster, and activist in support of it. For much of his life he was a smallholder in Wales. He was the author of numerous books, including The Self-Sufficient Life and How to Live It, The Concise Guide to Self-Sufficiency, and The New Self-Sufficient Gardener. He died in 2004.