A Glorious Freedom: Older Women Leading Extraordinary Lives (Hardcover)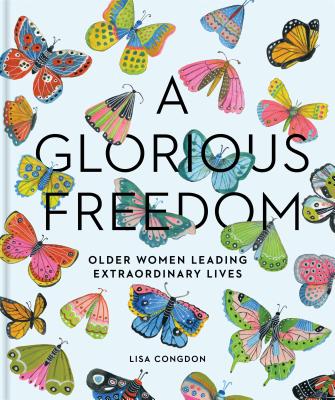 $19.95
Usually Ships in 1-5 Days
Staff Reviews
---
The glory of growing older and the freedom to be more ourselves. This book is inspiring and empowering for all women especially those of a certain age. It includes interviews, essays, and profiles peppered with Congdon's beautiful hand lettering and illustrations. All sorts of amazing women are in this book, some famous some not-- from Stephanie Young, who decided to go to medical school to become a doctor at the age of 53, to artist Beatrice Wood.
— From
Mara
Description
---
The glory of growing older is the freedom to be more truly ourselves—with age we gain the liberty to pursue bold new endeavors and worry less about what other people think. In this richly illustrated volume, bestselling author and artist Lisa Congdon explores the power of women over the age of forty who are thriving and living life on their own terms. Profiles, interviews, and essays from women—including Vera Wang, Laura Ingalls Wilder, Julia Child, Cheryl Strayed, and many more—who've found creative fulfillment and accomplished great things in the second half of their lives are lavishly illustrated and hand-lettered in Congdon's signature style. The perfect gift for women of all ages, A Glorious Freedom celebrates extraordinary lives and redefines what it means to gain wisdom and maturity.
About the Author
---
Lisa Congdon is an author, illustrator, and fine artist. Her other books include Whatever You Are be a Good One; Art, Inc.; Fortune Favors the Brave; and The Joy of Swimming, also from Chronicle Books. She lives in Portland, Oregon. You can see more of her work at www.lisacongdon.com.
Praise For…
---
"Beautifully hand-lettered and illustrated, A Glorious Freedom: Older Women Leading Extraordinary Lives by Lisa Congdon is a reminder that with time we can grow wiser and bolder, all on our own terms. The book features interviews, profiles and essays from great women past and present—Vera Wang, Cheryl Strayed and Julia Child, among others—who exemplify living large at every age." —Family Circle

"We hear all the time that women become invisible after 40, but not in this book. Lisa Congdon captures the beauty and humanity of getting older, wiser, and—in many ways—freer." —Andi Zeisler, cofounder Bitch Media

"Through crystalline profiles, probing interviews, and candid essays, the remarkable women celebrated in Lisa Congdon's vibrantly illustrated collection trace the genesis of their journeys of self-discovery and offer stirring words of encouragement to any woman, of any age, longing for personal, professional, creative, or emotional fulfillment." —Booklist

"From its colorful cover chock-full of butterflies to its long, varied list of interviews, essays, profiles of and Q&As from women finding themselves, reinventing themselves, and following their dreams and living their fullest lives in their later years, this delightful primer of motivation should find its way on every woman's shelf." —Kirkus Reviews

"You cannot capture the beauty of being a woman coming into her own power without art. No one knows that better or does that better than Lisa Congdon. A Glorious Freedom captures the spirit of what it means to show up, be seen, and be free." —Brené Brown, Ph.D., author of the #1 New York Times Bestseller Rising Strong