Affectueusement, P?re No?l (Hardcover)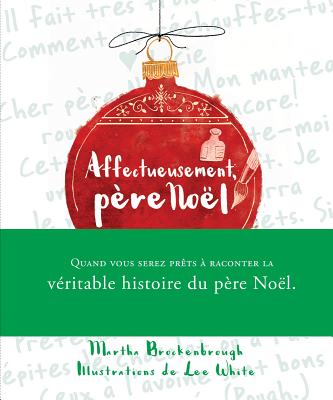 Description
---
See below for English description.
Cet album pistolaire magnifiquement illustr permettra aux parents de partager avec leurs enfants la v rit sur le p re No l, sans briser la magie des f tes. Un merveilleux outil utiliser lorsque les enfants sont pr ts d couvrir que le p re No l n'existe pas. Le livre tant entour d'un bandeau, la v rit sur le p re No l ne sera pas d voil e par m garde aux enfants trop curieux.
Les plus grands seront ravis de lire ou de se faire lire cette histoire touchante qui promet d'amener des discussions nostalgiques sur la fa on dont ils ont eux-m mes d couvert la v rit sur le p re No l.
L'album contient de vraies lettres que les enfants pourront retirer des enveloppes et manipuler.
The beautiful truth about Santa.
In a series of letters, a young girl writes to Santa to ask about the North Pole, Mrs. Claus, and of course, Christmas goodies. Year after year, Santa writes back, and a heartwarming relationship develops, until one year, the girl writes to her mother instead: Mom, are you Santa? Her mother responds to say that no, she is not Santa. There is no one Santa. Because Santa is bigger than any one person -- we bring him out through kindness to one another and the power of imagination.
This transformative tale spins a universal childhood experience into a story about love, giving, and the spirit of Christmas.
Original title: Love, Santa