Drawing Realistic Pencil Portraits Step by Step: Basic Techniques for the Head and Face (Paperback)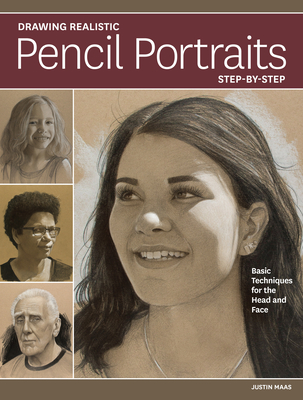 $24.99
Available to order - Usually arrives at our store in 1-5 days
Description
---
"As long as humans have been alive, we have drawn." Justin Maas Drawing is the most essential of all visual arts. Everyone, from sculptors to painters, draws in one form or another. It is also the simplest and most affordable form of artistic expression. All you need is a pencil and paper to make something magical. But to create a successful portrait, one must understand how to capture a person's likeness--their spirit--and portray it in graphite. In Drawing Realistic Pencil Portraits, artist and teacher Justin Maas provides a step-by-step guide for both novice and experience portraitists looking to enhance their skillsets. His tried-and-true techniques for mastering the basics and accurately rendering proportion, placement and nuance when drawing the head and face will help you add energy and life to your drawings and create recognizable and moving portraits. In this book: - Lessons in drawing basics, including value, line, shadow, light and anatomy
- How to work from both reference photographs and live models, plus tips for selecting your subjects
- Step-by-step demos to create crucial features, such as eyes, ears, and hair
- Methods for building successful portraits, including the grid method, the tracing method and the author's own Maas method
- 15 detailed step-by-step portrait-drawing demos with subjects of different ages, genders and ethnicities
- A gallery of additional portrait examples in both black-and-white and full color.