Drawing Portraits for the Absolute Beginner: A Clear & Easy Guide to Successful Portrait Drawing (Art for the Absolute Beginner) (Paperback)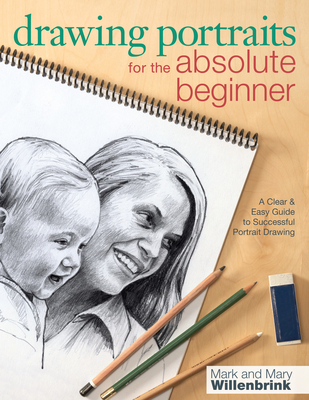 Description
---
Open this book as an absolute beginner, and come away as a proud portrait artist Mark and Mary Willenbrink's Absolute Beginner books have helped thousands of novices tap into their inner artists. In this book, Mark and Mary help the beginning artist take on portraits, showing that absolutely anyone can draw faces. Their encouraging, easy-to-follow instruction style makes learning fun--you'll be amazed by how quickly you achieve impressive results. You may be a beginner now, but not for long Drawing Portraits for the Absolute Beginner covers everything from warming up with sketches, and capturing facial expressions, to framing your finished work. Page by page, you'll build the skills and confidence you need to draw lifelike portraits of your friends and family. What's Inside: - A simple two-stage approach to drawing portraits: sketch a likeness, then build up values to bring it to life
- Step-by-step instruction for drawing eyes, noses, mouths, hairstyles, hands, glasses and other tricky elements
- 13 complete demonstrations featuring a range of ages and ethnicities
- Tips for evoking more personality in your portraits by using props, costumes and accessories.
About the Author
---
Mark and Mary Willenbrink are the husband and wife team of the internationally best selling Drawing for the Absolute Beginner, with their Absolute Beginner titles translated in more than a dozen languages. Mark and Mary enjoy teaching the fundamentals of art while encouraging everyone to "Have fun and keep up the good work!" Mark is a fine artist and art teacher who strives to do a sketch a day, while Mary is an author who loves reading, writing and spending time with family. The Willenbrinks live in southwestern Ohio with their growing number of rescue cats and dogs.