The Metamorphosis (Paperback)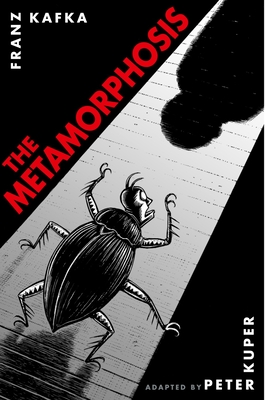 Staff Reviews
---
Kuper has captured Kafka's novella's essence and given it new form (although probably not an overnight transformation!), reimagining it with visceral intensity in stark black and white. A literary graphic novel not to be missed!
— From
Melanie
Description
---
Acclaimed graphic artist Peter Kuper presents a brilliant, darkly comic reimagining of Kafka's classic tale of family, alienation, and a giant bug. Kuper's electric drawings—which merge American cartooning with German expressionism—bring Kafka's prose to vivid life, reviving the original story's humor and poignancy in a way that will surprise and delight readers of Kafka and graphic novels alike.

"A brilliant illustrated adaptation of Franz Kafka's famous story. It's a real pleasure to read and one in which everyone will recognize the existential drama and uncanny wit of the original text."—Susan Bernstein, associate professor of comparative literature and German studies, Brown University
About the Author
---
FRANZ KAFKA was born in Prague in 1883. Although his passion was for writing, it never served as a livelihood and only a handful of his stories were published before he died of tuberculosis at the age of forty. Though largely unknown during his lifetime, he has come to be regarded as one of the most influential writers of the twentieth century. His short story The Metamorphosis, originally written in German in 1915, is considered to be his masterpiece.

PETER KUPER'S fascination with entomology began at the age of five but was supplanted by his discovery of comic books several years later. Thanks to Franz Kafka, Kuper no longer has to choose between the two. His comics and illustrations appear regularly in numerous magazines and newspapers, including Mad, for which he draws "Spy vs Spy" every month. Give It Up!, his first collection of Kafka adaptations, was published in 1995.
Praise For…
---
"Kafka's stoic Euro-alienation meets and merges with Kuper's thoroughly American rock and roll alienation."—Jules Feiffer

"The ride from book to comic can be bumpy. Mr. Kuper navigates the transition with precision."—New York Times

"Kafka's anguished archetypal characters are easily rendered into visual equivalents and given new life in Kuper's raw, expressionistic graphic style."—Publishers Weekly

"Darkly appropriate . . . Kuper's work rivals that of Art Spiegelman."—Chicago Sun-Times

"Bubbling beneath the surface is a caustic batch of black humor that is as much unsettling as it is absurd. This is the magic of Kafka. And Kuper gives it a postmodern edge here, with an intriguing dance of picture and text."—Gannett News Service

"Kuper's scratchboard style . . . is reminiscent of the German expressionist artists . . . and his cartoony approach accentuates Kafka's dark humor."—Booklist