The Chalk Pit (Ruth Galloway Mysteries #9) (Paperback)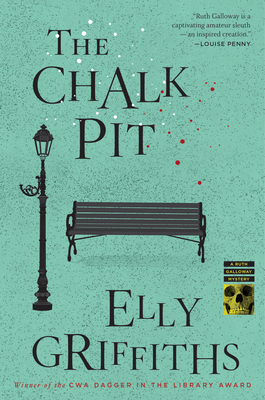 Other Books in Series
This is book number 9 in the Ruth Galloway Mysteries series.
Description
---
Winner of the CWA Dagger in the Library Award
 
Praise for Elly Griffiths' Ruth Galloway series
 
"Gripping." —Louise Penny | "Highly atmospheric." —New York Times Book Review 
"Remarkable, delightful." —Associated Press | "Must-reads." —Deborah Crombie
"Wonderfully rich . . . A great series." —Guardian | "Smart, down-to-earth, and completely believable." —Mercury News
 
Far below Norwich is a maze of old mining tunnels. When Ruth Galloway is called to examine a set of human remains in one of them, she notices the bones are almost translucent, a sign they were boiled soon after death. Once more, she's at the helm of a murder investigation.
 
Meanwhile, DCI Nelson is looking for a homeless woman who he hears has gone "underground." Could she have disappeared into the labyrinth? And if so, is she connected to the body Ruth found? As Ruth and Nelson investigate the tunnels, they hear rumors of secret societies, cannibalism, and ritual killings. And when a dead body is found with a map of what seems to be the full maze, they realize their hunt for the killer has only just begun—and that more bodies may be underfoot.
About the Author
---
ELLY GRIFFITHS is the author of the Ruth Galloway and Brighton mystery series, as well as the standalone novels The Stranger Diaries, winner of the Edgar Award for Best Novel, and The Postscript Murders. She is the recipient of the CWA Dagger in the Library Award and the Mary Higgins Clark Award. She lives in Brighton, England.
Praise For…
---
"Griffith's ninth is complex and character-driven, providing an excellent mystery whose very last sentence will leave you yearning for the next installment."--Kirkus Reviews, STARRED review

"Once again, the key elements of this award-winning series are at hand: complex personal relationships among the protagonists that continue to evolve in surprising ways, excellent use of history and folklore, and lyrically moody imagining of landscape....a good draw for mystery buffs. Series regulars will be intrigued by unexpected developments that promise further complications for Ruth and Nelson."--Library Journal

"Engrossing...[Griffiths's] portrayal of issues surrounding homelessness is compassionate and nuanced."--Publishers Weekly 

PRAISE FOR ELLY GRIFFITHS AND THE RUTH GALLOWAY SERIES

Winner of the Mary Higgins Clark Award

"Galloway is an everywoman, smart, successful and a little bit unsure of herself. Readers will look forward to learning more about her." —USA Today

"Elly Griffiths draws us all the way back to prehistoric times…Highly atmospheric." —The New York Times Book Review

"Forensic archeologist and academic Ruth Galloway is a captivating amateur sleuth-an inspired creation. I identified with her insecurities and struggles, and cheered her on. " —Louise Penny, author of the bestselling Armand Gamache series

"These books are must-reads." —Deborah Crombie, author of the Duncan Kincaid/Gemma James series

"[Ruth Galloway's] an uncommon, down-to-earth heroine whose acute insight, wry humor, and depth of feeling make her a thoroughly engaging companion." —Erin Hart, Agatha and Anthony Award nominated author of Haunted Ground and Lake of Sorrows

"Ruth Galloway is a remarkable, delightful character…A must-read for fans of crime and mystery fiction." —Associated Press

"Rich in atmosphere and history and blessed by [Griffith's] continuing development of brilliant, feisty, independent Ruth...A Room Full of Bones, like its predecessors, works its magic on the reader's imagination." —Richmond Times-Dispatch

"Lovers of well-written and intelligent traditional mysteries will welcome [Griffith's] fourth book…A Room Full of Bones is a clever blend of history and mystery with more than enough forensic details to attract the more attentive reader." —Denver Post