If Then: How the Simulmatics Corporation Invented the Future (Paperback)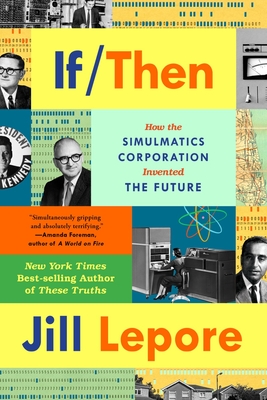 $17.95

Available - On our shelves now
Description
---
From the best-selling author of These Truths, an "exhilarating" (New York Times Book Review) account of the Cold War origins of our data-mad era.
The Simulmatics Corporation, founded in 1959, mined data, targeted voters, accelerated news, manipulated consumers, destabilized politics, and disordered knowledge—decades before Facebook, Amazon, and Cambridge Analytica. Although Silicon Valley likes to imagine that it has no past, the scientists of Simulmatics are almost undoubtedly the long-dead ancestors of Mark Zuckerberg and Elon Musk—or so argues Jill Lepore, distinguished Harvard historian and
New Yorker
staff writer, in this "hilarious, scathing, and sobering" (David Runciman) account of the origins of predictive analytics and behavioral data science.
About the Author
---
Jill Lepore is the David Woods Kemper '41 Professor of American History at Harvard University, where she teaches classes in evidence, historical methods, the humanities, and American political history. Her one-semester undergraduate course on the history of the United States features weekly debates in which students use primary sources to argue over competing historical interpretations of turning points in American history. She is the author of The Name of War: King Philip's War and the Origins of American Identity (winner of the Bancroft Prize), New York Burning: Liberty, Slavery and Conspiracy in Eighteenth-Century Manhattan (a finalist for the Pulitzer Prize), The Secret History of Wonder Woman (winner of the American History Book Prize), and many other titles. She is also a staff writer at The New Yorker, host of the podcast The Last Archive, and she was named the winner of the Hannah Arendt Prize for Political Thought in 2021.